Stocks - Wall Street Hits New Highs on Trade Hopes, Tech Gains
Investing.com | Dec 20, 2019 05:14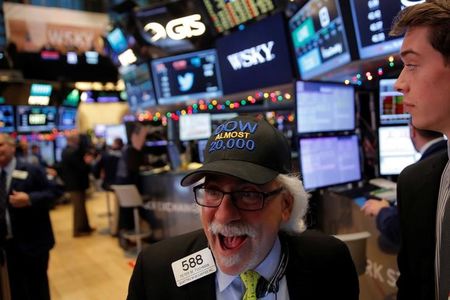 Investing.com – Stocks pushed to new intraday highs on Thursday as investors felt better about U.S.-China trade relations and bet heavily on chip stocks.
The S&P 500 closed up 0.45% and recorded its first close above 3,200.
The Dow Jones Industrial Average, up as many as 142 points in the late morning, added 0.5%.
The Nasdaq Composite rose 0.67%. The Nasdaq 100 climbed 0.71%.
The catalysts included Treasury Secretary Steve Mnuchin's comment that the phase one U.S.-China trade agreement should be signed in January.
There was a big rally in chip stocks, partly driven by a rally in Cirrus Logic (NASDAQ:CRUS), reportedly the possible target of Facebook (NASDAQ:FB). The Philadelphia Semiconductor Index jumped 0.8% and hit new closing and intraday highs.
But existing-home sales were off slightly from October. The problem was not enough supply and high prices.
Wall Street also appeared to bet that the chances President Donald Trump will be removed from office were minuscule, despite the House vote to impeach the president on Wednesday.
Real estate, communications services and technology were the day's strongest sectors.
Oil prices continued their late-fall surge. West Texas Intermediate closed at $61.18 a barrel, up 0.5% and up about 20% from a low in early October.
Interest rates fell back. Gold was up slightly in New York.
Written By: Investing.com