EM ASIA FX-Asian currencies set for weekly gains as ECB stimulus boosts risk appetite
Reuters | Jun 05, 2020 14:00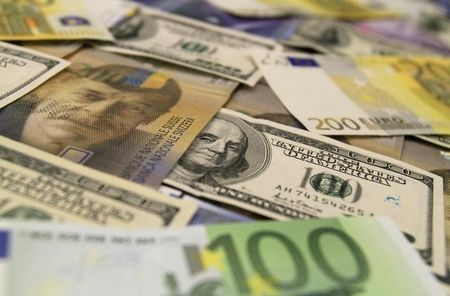 * Indonesian rupiah at over 3-month high
* Philippine peso gains; inflation slows for fourth straight
month
* Thai baht at over 2-month high
(Adds text, updates prices)
By Shriya Ramakrishnan
June 5 (Reuters) - Asian currencies strengthened on Friday
and were on course for weekly gains as a bigger-than-expected
stimulus package by the European Central Bank helped keep the
greenback under pressure and support appetite for riskier
assets.
The U.S. dollar hovered near a three-month low against a
basket of currencies after the ECB increased its emergency bond
purchase scheme by 600 billion euros to 1.35 trillion euros and
extended the scheme to mid-2021. Risk sentiment has largely remained intact this week as the
reopening of several global economies has supported economic
recovery hopes and helped investors look beyond simmering
Sino-U.S. tensions and civil unrest across the United States.
"Buy equities and sell the USD was the dominating theme
again this week, and momentum doesn't appear to be fading. There
is an obvious disconnect between asset values and current
economics but those who have dwelt on the disparity have missed
the rally," an ANZ note said.
The South Korean won KRW=KFTC advanced 0.6%, in tandem
with gains in local equities .KS11 , while the Chinese yuan
CNY=CFXS rose 0.3% in onshore trade.
Leading gains in the region, the Indonesian rupiah IDR=ID
strengthened 1% to 13,935 against the greenback, its highest
level in more than three months.
Recent weakness in the greenback has largely prompted
investors to pile back in to the country's debt market as
Indonesian debt offers the highest yield in Southeast Asia. The
currency was on track to record a weekly gain of 5%, its best
week since late 2015.
Investors were also soothed by easing of some
coronavirus-induced curbs in the Indonesian capital city of
Jakarta. Export-focused units such as the Singapore dollar SGD= and
Taiwan dollar TWD=TP firmed 0.3% and 0.4%, respectively.
The Thai baht THB=TH rose 0.4% to 31.47 per dollar.
Markets await further steps by the Bank of Thailand to curb
a rapid rise in the currency, after it conducted a meeting with
exporters and foreign exchange traders on Thursday.
The Indian rupee INR=IN and Malaysian ringgit MYR=MY
rose 0.2% each, while the Philippine peso PHP= erased early
losses to trade 0.2% higher.
Philippine inflation eased for a fourth straight month in
May, as the country's coronavirus lockdown measures tempered
price pressures on food and fuel. Analysts at Goldman Sachs expect the Philippine central bank
to cut policy rates by 25 basis points in the third quarter to
support an economy facing below-target inflation and a likely
contraction in growth this year.
CURRENCIES VS U.S. DOLLAR
Change on the day at
0524 GMT
Currency Latest Previous Pct
bid day Move
Japan yen 109.130 109.13 +0.00
Sing dlr 1.393 1.3980 +0.34
Taiwan dlr 29.823 29.926 +0.35
Korean won 1211.000 1218.7 +0.64
Baht 31.470 31.59 +0.38
Peso 49.820 49.9 +0.16
Rupiah 13835.000 14060 +1.63
Rupee 75.398 75.58 +0.24
Ringgit 4.262 4.27 +0.19
Yuan 7.095 7.1130 +0.25
Change so far in 2020
Currency Latest End 2019 Pct
bid Move
Japan yen 109.130 108.61 -0.48
Sing dlr 1.393 1.3444 -3.50
Taiwan dlr 29.823 30.106 +0.95
Korean won 1211.000 1156.40 -4.51
Baht 31.470 29.91 -4.96
Peso 49.820 50.65 +1.67
Rupiah 13835.000 13880 +0.33
Rupee 75.398 71.38 -5.33
Ringgit 4.262 4.0890 -4.06
Yuan 7.095 6.9632 -1.86
Written By: Reuters