Forex - U.S. Dollar Rises as Trump Says He is Undecided on Tariff Rollbacks
Investing.com | Nov 08, 2019 23:43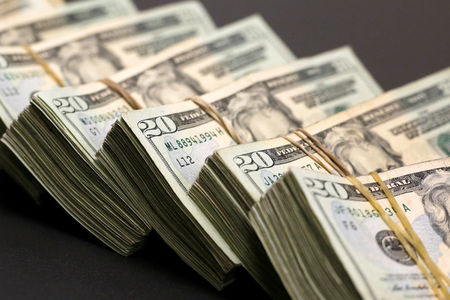 Investing.com - The U.S. dollar was higher on Friday as U.S. President Donald Trump confirmed that he plans to sign a trade deal with China, but had not yet decided if he would roll back tariffs.
China had stated Thursday that the two nations had agreed to phase out tariffs as part of the anticipated phase one trade agreement.
Trump said on Friday that he would not fully roll back tariffs, but that a deal could be signed with Chinese President Xi Jinping in Iowa by the end of the month, adding that China wants to make a deal.
The U.S. dollar index, which measures the greenback's strength against a basket of six major currencies, jumped 0.2% to 98.180 as of 10:30 AM ET (14:30 GMT).
The safe haven Japanese yen was higher with USD/JPY down 0.1% to 109.17.
Elsewhere, sterling was flat just a day after the Bank of England left its key interest rate unchanged at 0.75% and cut its growth forecasts. GBP/USD was steady at 1.2809.
The euro continued to trade lower, with EUR/USD slipping 0.3% to 1.1019 after forecasts from the European Commission lowered expectations for any kind of stimulus in the struggling bloc.
Written By: Investing.com