* Reports 4Q 2019 results on Wednesday, Jan. 29, after the close
* Revenue expectation: $6.95 billion
* EPS expectation: $1.64
Looking at the share price of Tesla (NASDAQ:TSLA), it doesn't seem that the company has a difficult job to do when it reports its fourth-quarter earnings next Wednesday. Investors, who sent its stock surging in the past three months, are already convinced that the troubled electric carmaker has turned the corner.
After reporting a surprise third-quarter profit in October, Tesla shares have been on a tear, gaining 125% since then and closing yesterday's session up for the third straight day at $572.20.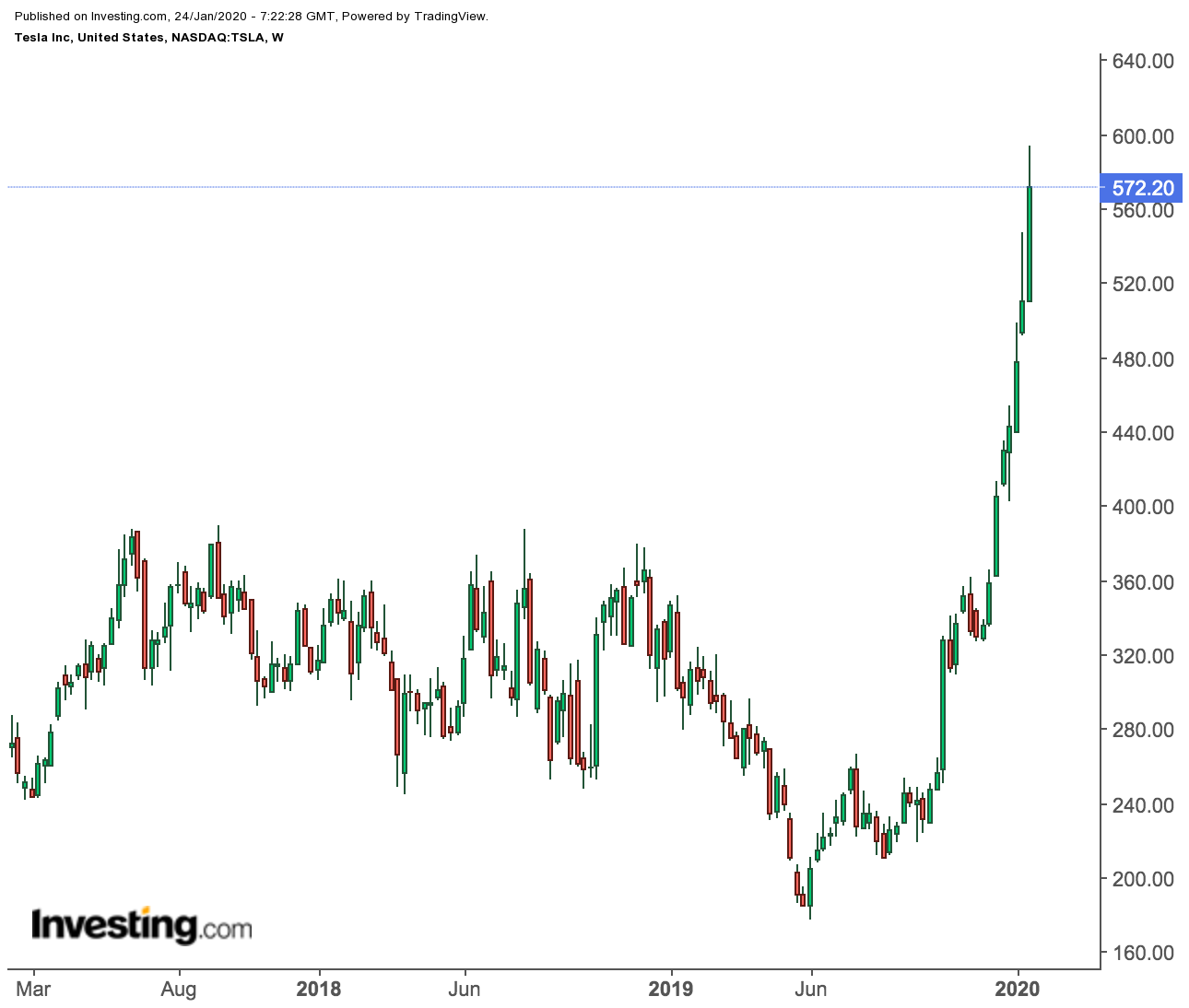 Behind this dramatic rally are the strong car sales numbers for the last quarter, the CEO Elon Musk's announcement that he is ahead of schedule bringing out his next product, the Model Y crossover, and setting up his Shanghai "gigafactory" in record time.
The company announced earlier this month that it delivered a record 112,000 vehicles in the fourth quarter and has begun production at a new factory near Shanghai where it is building 1,000 Model 3 sedans a week.
The impact of these developments has been so powerful that Tesla, for the first time, values more than $100 billion, exceeding Volkswagen (DE:VOWG), that sold almost 30 times as many vehicles last year. For 4Q, analysts on average expect another profitable quarter as sales jump to $6.95 billion.
This turn in fortunes came after a very unsettling year for Tesla that shook investors' confidence in the company's founder Musk, who stunned shareholders with a plan, ultimately abandoned, to take the company private.
These missteps, along with a raft of broken promises, forced many top analysts to downgrade Tesla's stock and even question the seriousness of Musk's mission to disrupt the traditional auto industry.
China Is a Swing Factor for Tesla (NASDAQ:)
For Tesla bulls, that ambitious goal suddenly looks within reach after recent breakthroughs. The completion of Shanghai's factory and the company's success in exceeding its ambitious goal of selling 360,000 vehicles for the year are a powerful sign that Tesla could rapidly become a meaningful industry player if it continues to meet its targets.
Despite this optimism, it's not clear whether China will quickly become a profitable venture for Tesla. Electric vehicle sales have been weakening over the past several quarters in China as the government rolls back subsidies on alternative energy vehicles.
A slowing car market in China, the elimination of U.S. tax credits for Tesla buyers and the risk of Musk falling short again on his promises are some of the major obstacles that could decelerate the stock's rally in 2020. It's worth recalling that the company had a similar strong finish to 2018, but produced massive losses for shareholders in the first half of 2019.
In order to solidify its position, Tesla must show in the next few quarters that it can translate all these gains into generating consistent, free cash flow and start cutting its debt. But the problem with the company's stock is that it reacts too wildly to any bad news, making it a favorite target for speculators.
Despite the stock's explosive gain this year, the Street is still divided on Tesla's prospects. While at least eight analysts have boosted their price targets by more than $100 since the year began, according to Bloomberg data, consensus is still well below where Tesla's shares are trading. The average target is $363.92 with just 10 analysts rating the stock a buy, compared with 10 holds and 16 sells.
Bottom Line
There is little doubt that Tesla is back on track after ramping up its production and building a factory in China that could prove a game-changer for the company's long-term profitability.
But the trail-blazing automaker needs to be quick to show that all these milestones are helping the company to reach sustainable profitability and that the good times are here to stay, unlike so many of its previous boom-and-bust cycles. Next week's earnings could very well prove to be a make-or-break event for the Tesla rally.

Written By: Investing.com