The broader stock markets are seemingly defying gravity, including hard evidence that the United States entered recession in 2020. But that hasn't stopped US equities from hitting all-time highs, with the NASDAQ marking a new peak yesterday. And the beleagured cannabis sector was not going to be left behind. Let's just call Monday the day of double-digit gains for pot stocks.
The list of marijuana companies that saw their stock prices increase was extensive, led by Quebec-based HEXO (NYSE:HEXO), which saw an almost 48% jump on the New York Stock Exchange and a 44.4% rally in Toronto (TSX:HEXO).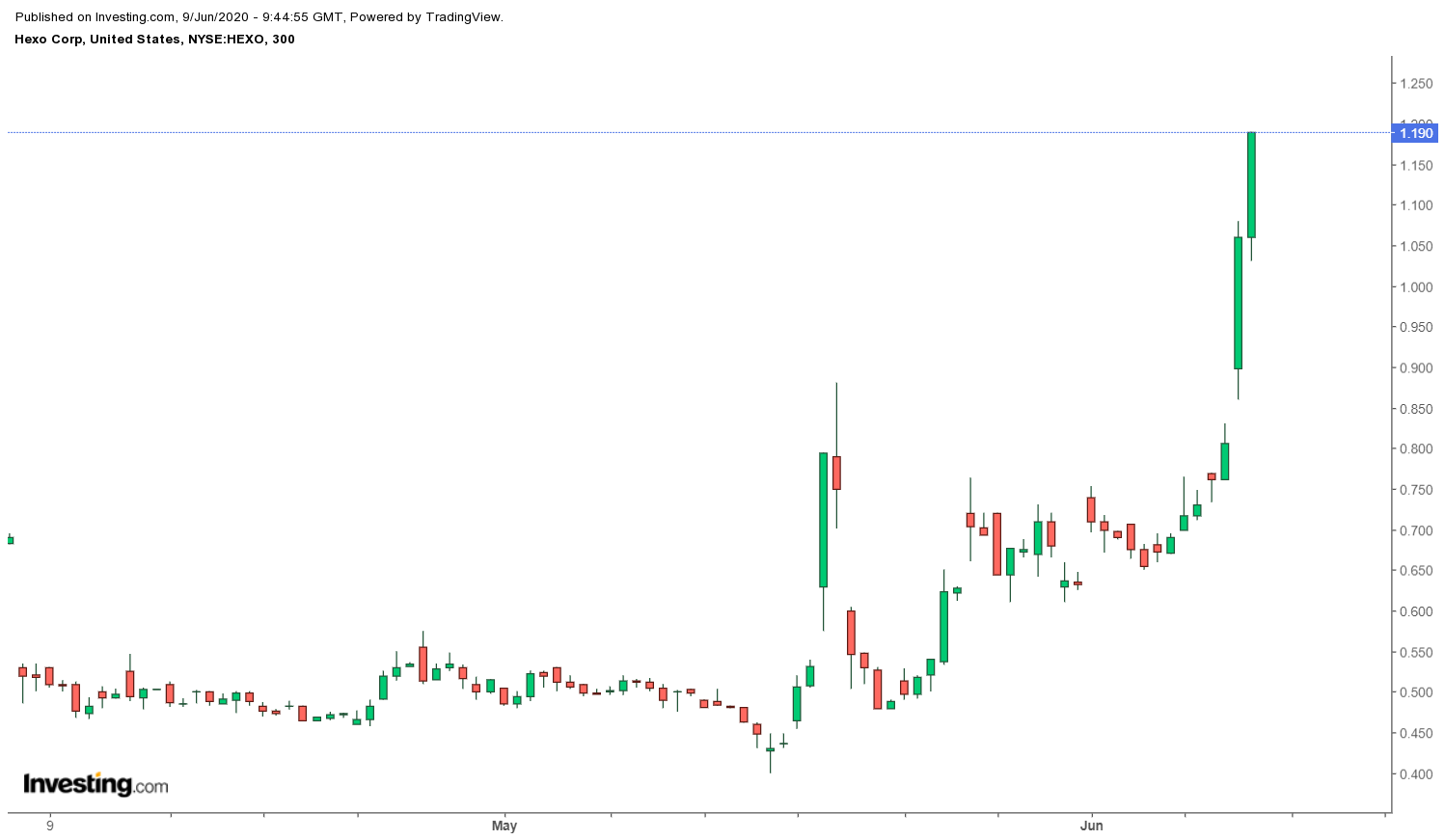 A slew of rival cannabis companies saw hefty rallies on Monday.
Green Organic Dutchman (OTC:TGODF) (TSX:TGOD) gained 25% in New York (23.75% in Toronto). The Ontario-based grower has seen its stock lose more than 85% of its value in the last year. Also making the list of top performers Monday was Cronos (NASDAQ:CRON), which gained 21.5% in New York and 20.34% in Toronto (TSX:CRON).
iAnthus Capital (OTC:ITHUF) was one of the few U.S. cannabis companies that was part of the upward momentum Monday. It gained 20.6% on the day yesterday. Earlier this spring, the company defaulted on interest payments totalling US$159.2 million, as it struggled with liquidity while the COVID-19 pandemic swept across North America.
OrganiGram (NASDAQ:OGI) increased 15.34% in New York and 13.87% on the Canadian exchange (TSX:OGI).
Aphria (NYSE:APHA) added 13.44% in the U.S. and just shy of 14% in Canada (TSX:APHA).
Investors Reward Aurora Stake Sale
Aurora Cannabis (NYSE:ACB) shares gained more than 12.5% in New York to close Monday US$15.74, triggered in part by the company's decision last week to sell off its stake in Canadian-based Alcana (TSX:CLIQ), one of the largest private-sector alcohol retailers in North America, at a significant loss.
According to the announcement issued by Alcana, Aurora will sell its 23% stake in the company for $27.6 million, having paid $138 million in 2018 for the retailer that also operates 31 cannabis stores in Alberta and Ontario.
Tilray (NASDAQ:TLRY) was another pot stock that made double-digit gains yesterday, adding just over 10% to end the day Monday at US$10.44

Canopy Defies Outlook
Shares of Canopy Growth (NYSE:CGC) finished the day with a respectable showing, adding more than 8.5%. This came as a welcome relief after suffering a setback last week when a Wall Street analyst cut their price target, citing the largest cannabis company by market cap is reportedly "sized for growth," but all that growth may not be realized in the medium term. The downgrade knocked Canopy shares back from a three-and-a-half-month high. Canopy closed yesterday at US$17.94 (C$23.93).
Analyst Bill Kirk with Wall Street's MKM Partners last Thursday maintained a neutral rating on the Canadian-based marijuana giant, but dropped the price target to C$19 (US$14.08) from CA$21 (US$15.56.)
Small Canadian Retailer Buys Phivida
Choom (CSE:CHOO), a small Canadian-based cannabis retailer, saw its stock price jump for a third day on Monday, after announcing last week a C$7.3-million ($5.42 million) all-stock deal to buy CBD producer Phivida (OTC:PHVAF) (CSE:VIDA). Its shares have rallied by more than 50% in three trading days to close at C$0.20.
The deal is part of Choom's strategy to become one of the dominant national retailers in Canada, according to a statement released by the Vancouver-based company. Choom is focused on expanding in Ontario and British Columbia.
Phivida specializes in CBD-based consumer goods. Headquartered in Vancouver, it has operations in San Diego, Toronto and Belgrade.

Written By: Investing.com