When the world's two largest social media companies—Alphabet (NASDAQ:GOOGL) and Facebook (NASDAQ:FB) release their Q1 2020 earnings reports on, respectively Tuesday and Wednesday of this week—investors will be focusing on how the COVID-19 pandemic is hurting their crucial digital ad revenue streams.
For many analysts, it's difficult to quantify the impact of an imminent global recession on social media companies. After all, each is a relatively young enterprise that's the product of the unprecedented economic boom of the past decade. That growth provided the backdrop for the longest bull run in the U.S. stock market's history, which was powered by top technology companies, including Facebook, and Google's parent Alphabet.
Video, Voice, Text Messaging Explosion That's Hard To Monetize 
Facebook will report first quarter earnings after the market close on Wednesday, April 29. Analysts, on average, are expecting $1.74 a share profit on sales of $17.4 billion.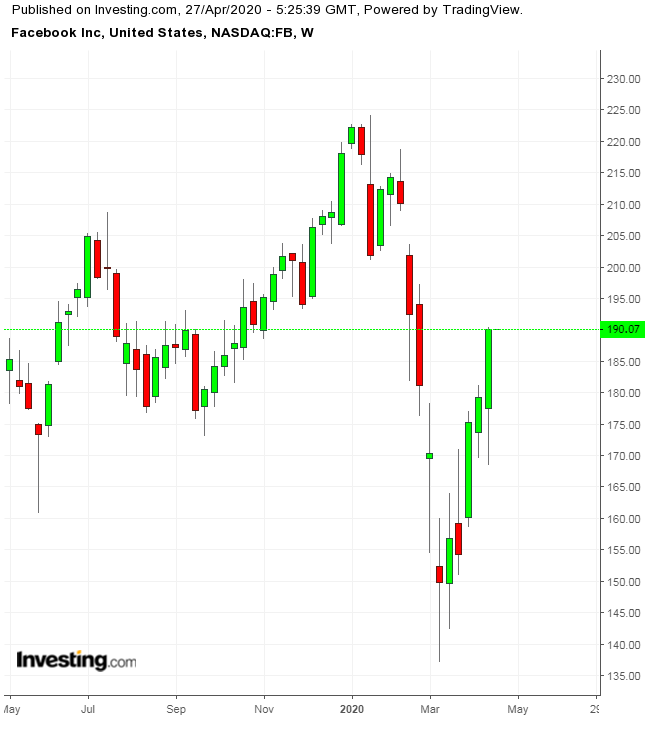 But the most important detail that will set the course for its already damaged share price—the stock has lost about 15% of its value since the start of the year—is how the social media giant sees the future when so many small and big companies are under pressure and cutting their ad spending.
Needham analyst Laura Martin said in a recent note that 30% to 45% of Facebook's global revenue comes from advertising categories deemed "at risk" from COVID-19. In addition, Martin said, six of the 10 largest countries in which advertising proliferates are currently coronavirus hot spots.
"Our channel checks indicate lower spending in travel, retail, consumer packaged goods, and entertainment, which together represent 30%-45% of Facebook's total revenue," Martin wrote in a note to clients. "As consumer demand has fallen, advertising projections have started to decline," she said.
Facebook, for its part, has already informed investors about both the positive and negative implications of the pandemic on its business. While the Menlo Park, CA-based business is seeing an explosion in messaging, voice and video calling on Messenger and WhatsApp amid coronavirus lockdowns, it's hard for the company to monetize all this opportunity.
"We don't monetize many of the services where we're seeing increased engagement, and we've seen a weakening in our ads business in countries taking aggressive actions to reduce the spread of COVID-19," wrote Alex Schultz, VP of Analytics, and Jay Parikh, VP of Engineering in late March.
Significantly Slowing Hiring
For Alphabet, the parent company of search engine giant Google, the story isn't very different from that of Facebook. The company is scheduled to report its fiscal 2020, Q1 earnings tomorrow, Tuesday, April 28, after the market closes. On average, expectations are for earnings per share of $10.70 on revenue of $41 billion.
The internet giant's business model relies heavily on advertising spending from corporations and small businesses. And these markets are in deep trouble for the foreseeable future.
According to RBC Capital Markets, online advertising revenue will be down about 30% in the current quarter from a year earlier as business in the travel, autos, hospitality and retail sectors have come to a grinding halt.
Alphabet CEO Sundar Pichai told employees in an email last week that the company plans to "significantly slow down" the pace of hiring for the rest of this year, saying the Mountaniview, CA-based enterprise can't remain immune to the global economic disruption, according to Bloomberg News. Ads on Google search and other advertising accounted for 61% of sales last year—a big slice of the corporate pie that could see some substantial trimming in the current environment.
For these reasons, shares of Google have underperformed other big tech stocks in the current rebound. The stock closed on Friday at $1,276.60, down 4% for the year. During this same period, Microsoft (NASDAQ:MSFT), which competes with Google in the clouding-computing arena—is up 11%.
Bottom Line
Investors shouldn't expect much clarity from these two social media behemoths when they report earnings this week, especially when their main ad revenue markets are in complete turmoil and no one is able to predict how or when the virus will be contained. That means, their shares will continue to lag other tech giants, such as Netflix (NASDAQ:NFLX) and Amazon (NASDAQ:AMZN), the major beneficiaries of this stay-at-home environment.
That said, this rough period for both Facebook and Google should offer an opportunity to long-term investors to take advantage and buy shares of each company at low levels. Their strong balance-sheets and the market position—which are formidable—will make it possible for each to come back strongly once the economy starts to rebound.

Written By: Investing.com