* Reports Q1 2020 results on Thursday, April 23, after the market close
* Revenue Expectation: $18.63 billion
* EPS Expectation: $1.28
The world's largest chipmaker, Intel (NASDAQ:INTC), will come under sharp scrutiny when it reports Q1 earnings tomorrow as investors seek justification that the strong rally in its shares after the coronavirus-induced sell-off was justified and the company is well positioned to execute better than its peers.
Intel has massively outperformed the benchmark Philadelphia Semiconductor Index this year, falling just under 6% while the index has tumbled 14% on concerns that the deadly pandemic will hurt demand for chips and interrupt the supply chains. Intel stock closed yesterday at $56.36 a share, after falling about 5%.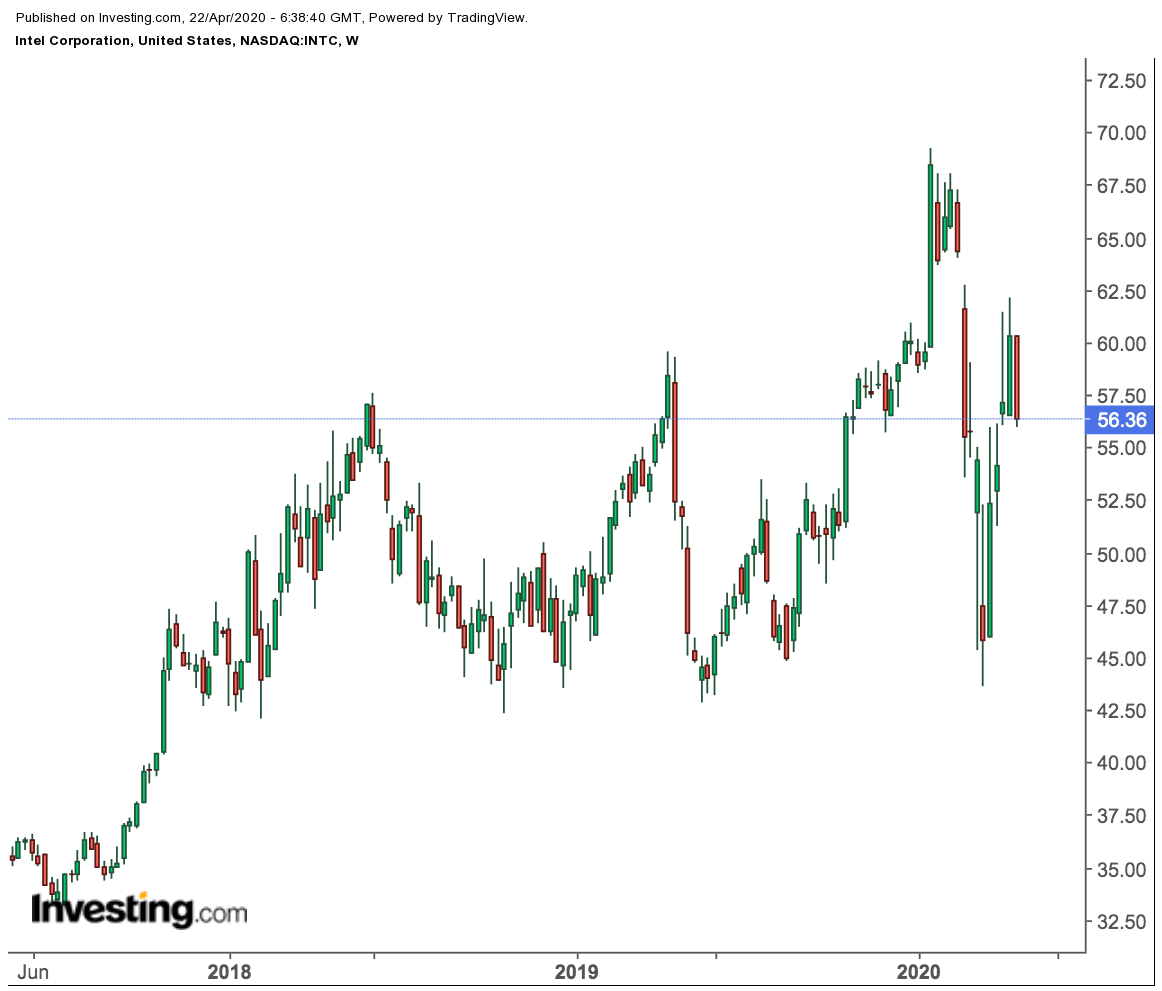 While these concerns still exist, Intel's solid balance sheet, along with the lockdown-fueled demand uptick in the notebook and cloud computing segments, give it significance resilience to help weather the current storm.
Robust Sales Driving Earnings
Even before the coronavirus outbreak, Intel had been seeing a strong rebound as it benefited from robust sales of its high margin products, including its most advanced processors for data centers.
That demand surge propelled earnings significantly higher than analysts had been expecting for the fourth quarter, helped by the continuing strong shipments to data centers run by the world's largest cloud computing firms, such as Amazon (NASDAQ:AMZN) and Microsoft (NASDAQ:MSFT).
As well, Intel should also report stronger-than-expected sales for chips that are used in personal computers. Shelter in place orders globally are boosting sales of computer accessories like keyboards, mice, monitors and laptops, according to industry consultant, NPD.
NPD said computer monitor sales doubled in the first two weeks of March, while notebook sales to businesses jumped 30% year-over-year for the last week in February and soared 50% in the first two weeks of March, as companies started to outfit their employees for working at home.
One of the biggest drags on Intel's share price last year was that the company had fallen behind in introducing its new chip technology, something many analysts believe should have been one of its main growth drivers.
Persistent delays in this area allowed Intel rivals, including Taiwan Semiconductor Manufacturing (NYSE:TSM) and Advanced Micro Devices (NASDAQ:AMD), to leapfrog ahead by rolling out their own lower-cost, higher-performing chips.
After spending a record amount in 2019 to keep up with the world's most advanced technologies, Intel is now catching up to stop the advances of competitors in this segment, ramping up the mass manufacturing of the smallest transistors it has ever made, measuring roughly 10 nanometers in length, or less than 10 thousandths the width of a human hair.
Bottom Line
With a forward price-to-earnings multiple of 12.5, Intel stock still looks cheap. Its wide moat and massive R&D spending continue to make its shares a good long-term bet despite some competitive pressures.
In addition, the stock pays a $1.32 a share annual dividend, for a current yield of 2.23%; the payout amount has been growing 7% per year, making it an attractive option to include in an investment portfolio when a recession is just round the corner.

Written By: Investing.com