Charley Blaine/Investing.com | Dec 30, 2019 17:40
When trading opened in 2019, investors were just hoping stocks would produce a rebound from the awful fourth quarter in 2018. But Apple (NASDAQ:AAPL) nearly spoiled everything.
Shares fell more than 32% between an all-time high in September 2018 and year-end. It fell another 10% on Jan. 3 after announcing its fiscal-first quarter results would be weak, dragging the entire stock market down with it.
Then, Apple and the U.S. stock market overall rebounded, often fitfully and, in the fourth quarter, powerfully. With just two trading days left in 2019, the S&P 500, currently up 29.25%, looks poised for its best year since 2013 and possibly 1997.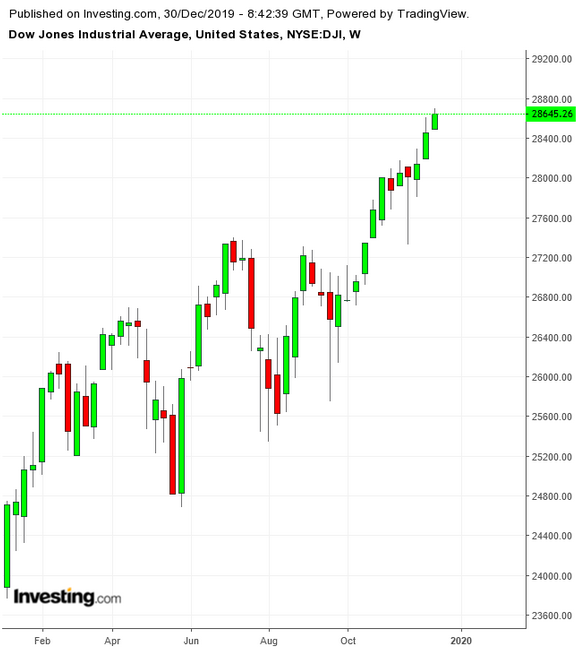 The Dow Jones Industrials are up 22.8%. The NASDAQ and NASDAQ 100 indexes could all see their best years since 2009.
Equities Remained Steady Vs. Headwinds; Tech Shares Provided Spark
Stocks this past year have weathered volatility caused by a variety of headwinds: tweets from President Donald Trump about the U.S.-China trade war, the Federal Reserve, the Mueller probe and possible impeachment; rising oil prices are up by a third from a year ago; concerns about how Facebook (NASDAQ:FB) and other big tech companies deal with privacy issues and political advertising; and the grounding of Boeing's (NYSE:BA) 737 MAX after two crashes, in Indonesia and Ethiopia, killed 346 people.
2020 could be strong as well. There will be challenges, such as whether big money thinks sky high stock prices are an issue.
The catalysts for the 2019 rebound were clearly technology shares.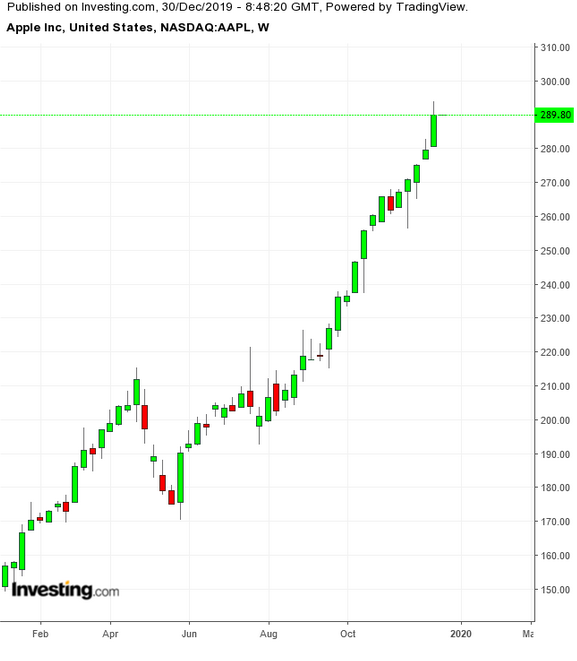 Apple, Microsoft (NASDAQ:MSFT), Advanced Micro Devices (NASDAQ:AMD), NVIDIA (NASDAQ:NVDA), Facebook, Qualcomm (NASDAQ:QCOM) are all up more than 50%. The Philadelphia Semiconductor Index is up nearly 61%.
Alphabet (NASDAQ:GOOGL) and Amazon.com (NASDAQ:AMZN) look like slackers, up "only" 30% and 24%, respectively.
Several factors outside technology combined to produce these boffo gains:
The reduction of U.S.-China trade tensions with a possible phase one trade deal set to be signed in January. China is a huge export market for farm products—and computer chips. That is no guarantee all the other and more complicated issues will be resolved.
Lower interest rates after the Federal Reserve realized the trade battles were hurting economies around the globe as well as U.S. exports. (The cynic might argue the Fed got tired of Trump's tweets.) Still, the yield finished Friday at 1.87%, off 30% from the end of 2018. and stocks are up more than 20%.
A decent domestic economy with consumer spending steady to strong. Hence strong results and rising stock prices for the likes of

Home Depot

(NYSE:), Lowe's (NYSE:), McDonald's (NYSE:) and Sherwin-Williams (NYSE:). Investors see Netflix (NASDAQ:), up 37%, weathering the competitive storm created by

Disney

(NYSE:), Apple (NASDAQ:) and others.
Accompanying the tech boom was an impressive rally in financial stocks. The Financial Select Sector SPDR® ETF (NYSE:XLF) is up 29% this year. It finally recovered all the losses it suffered during the 2008-2009 financial crisis and jumped above its old record peak set in 2007.
JPMorgan Chase (NYSE:JPM), the largest U.S. bank by assets, is up 42%. Goldman Sachs (NYSE:GS) is up 38%.
Still, There Were Laggards
There have been some losers. Boeing, up just 2.4%, had been up as much as 38% on March 2, just before the 737 MAX crisis hit. Though the CEO has been sacked, there's still no timetable on when the plane's problems will be fixed and the plane recertified. United Airlines (NASDAQ:UAL) has pulled the plane from its schedule until at least June 4.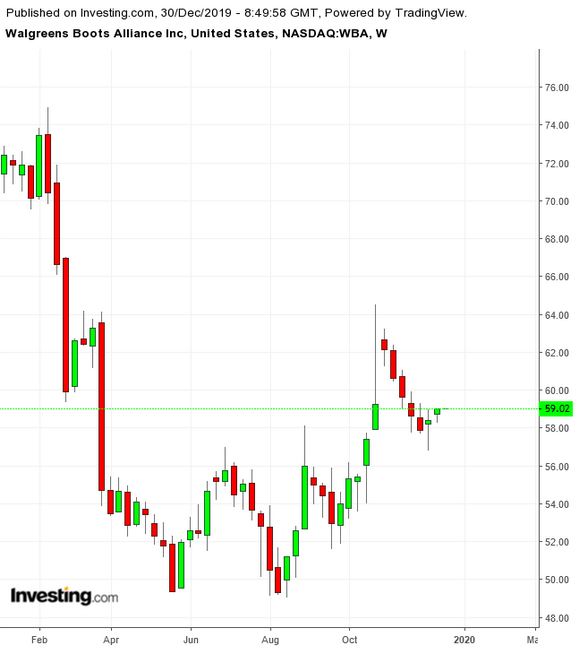 Pharmacy giant Walgreen Boots Alliance (NASDAQ:WBA), was the weakest Dow stock this past year and the third worst performer among NASDAQ 100 stocks. The company is currently looking for ways to go private.
Traditional retailers have struggled, pressured by the might of online behemoth Amazon (NASDAQ:AMZN). Macy's (NYSE:M) is off nearly 45%. Nordstrom (NYSE:JWN) is down more than 12%, but enjoying a 21% fourth-quarter rebound. Target (NYSE:TGT), however, is up 96%, the fourth best among S&P 500 stocks.
The conventional wisdom is that 2020 could be a good year, although forecasts are usually, well, wrong. Still, the three major factors—lower trade tensions, lower interest rates, a stable domestic economy—will remain in place after Dec. 31. That's a good sign, but U.S. stocks will start 2020 with some headwinds.
First, 2019 opened with the recovery from the 2018 fourth-quarter slump. The year ahead will open with the major indexes not just high but at technically overbought levels, and there's a good chance of a market correction sometime in the first quarter.
Next, some of 2019's excitement was built around the buzz in the market for initial public offerings. But the most anticipated IPOs—Uber (NYSE:UBER), LYFT (NASDAQ:LYFT) and WeWork—proved problematic. That will cast a pall over the IPO market going forward.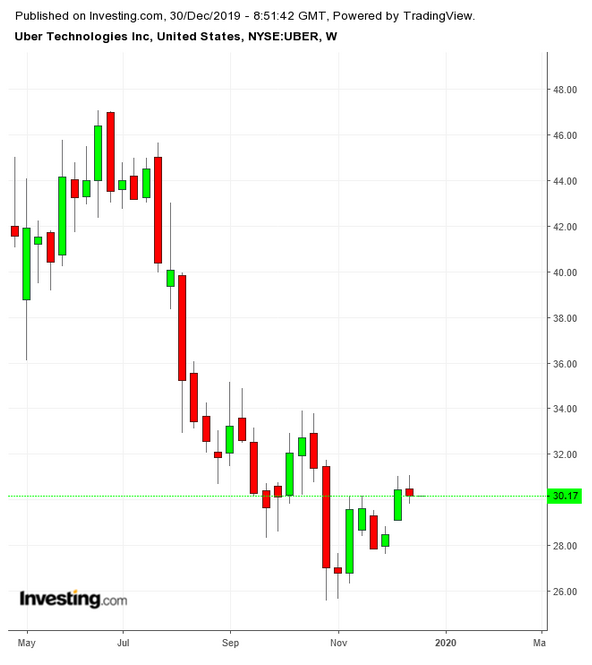 Uber and Lyft are down 33% and 36%, respectively, from where their IPOs opened. As they struggle to achieve profitability, they desperately need access to capital markets to expand.
WeWork's IPO was never even launched. The business plan made little sense to anyone, especially investors in its IPO, which was eventually pulled.
...And Some Upcoming Risks
Lastly, there's the upcoming election, including for president, a third of the Senate and the entire House of Representatives. If the House debate over impeaching Trump is any indication, it will be especially bitter.
Trump's campaign will say electing Democrats will doom the economy, although the stock market under Barack Obama performed better than the market under Trump, using each of their inaugurations as the starting dates for comparison.
And, if you assume the stock market is forward looking, it's fair to say Wall Street anticipates a Trump reelection.
≈≈≈
2019's Notable Performers
Among the stocks with big 2019 performances as of Friday were components of the:
S&P 500 +29%
Leaders
Advance Micro Devices (AMD) +150%
Lam Research (NASDAQ:) +116%
KLA-Tencor (NASDAQ:) +99%
Target

(NYSE:) +96%
Chipotle Mexican Grill (NYSE:) +94%
Apple (NASDAQ:AAPL) would rank 11th on this list, Microsoft (NASDAQ:MSFT) 49th, and Facebook (NASDAQ:FB), +58.8% would be 46th.
Laggards
ABIOMED

(NASDAQ:) -48%
Macy's (M) -45%.
TripAdvisor (NASDAQ:) -44%.
Macerich (NYSE:) -39%
Occidental Petroleum (NYSE:) -35%
DOW JONES INDUSTRIAL AVERAGE +23%
Leaders
Apple (NASDAQ:) +84%
Microsoft (NASDAQ:) +57%
Visa (NYSE:) +44%
JPMorgan Chase (NYSE:) +43%
United Technologies (NYSE:) +41%
Laggards
NASDAQ 100 +38.6%
Leaders
Advance Micro Devices (AMD) +150.2%
Lam Research (NASDAQ:) +116%
MercadoLibre

(NASDAQ:)) +104%
Seattle Genetics (NASDAQ:) +100%
KLA-Tencor (NASDAQ:) +99%
Apple (NASDAQ:AAPL) didn't make the top 5 on this list either, but it represents 11.4% of the index. So, its 84% gain contributed about about 25% of the total index gain. Microsoft's 57% gain is worth almost 6% of the index's gain.
Laggards
NASDAQ COMPOSITE +34.5%.
Leaders
Bridgeline Digital (NASDAQ:) +722%
ArQule

(NASDAQ:) +624%
Durect (NASDAQ:) +575%
Arrowhead Pharmaceuticals (NASDAQ:) +422.8%
The Medicines Company (NASDAQ:) +343%
Laggards
Sellas Life Sciences (NASDAQ:) -93%

Novavax

(NASDAQ:) -89%

Kirklands

(NASDAQ:) -87%
Ocean Power Technologies (NASDAQ:) -87%

Ascena Retail

Group (NASDAQ:) -85%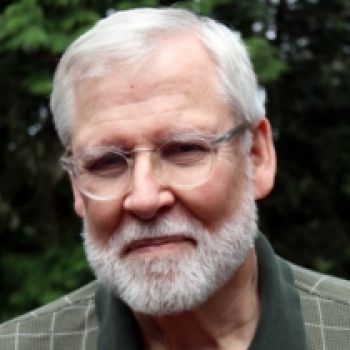 Written By: Charley Blaine/Investing.com