After a year of financial stress from reduced oil and gas demand and other virus-related disruptions, the energy industry could be on the hook again for something it hasn't been unduly bothered with in a while: on-site accident compensation.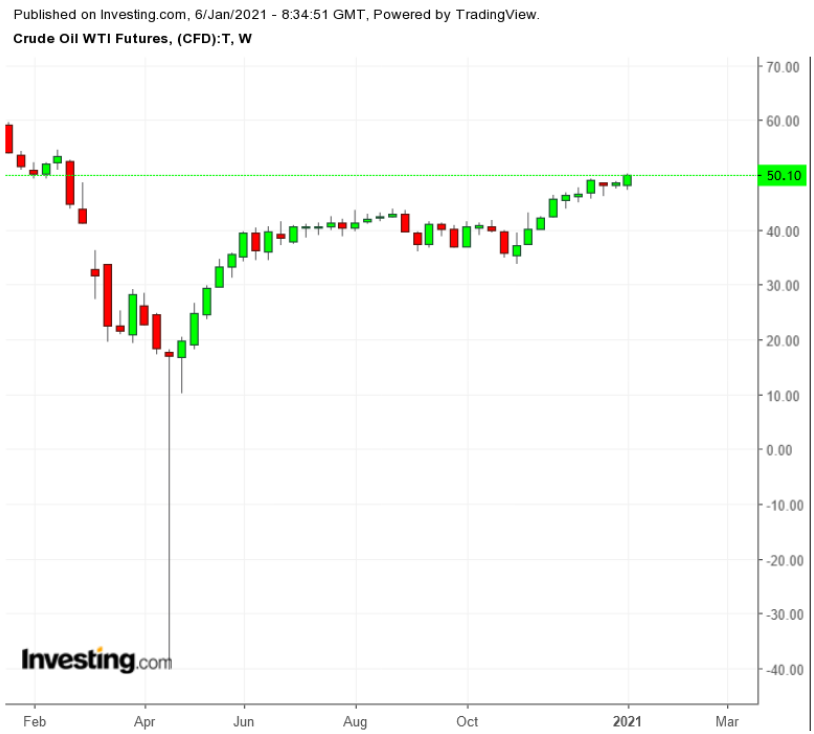 The COVID-19 pandemic reduced activity in oil and gas fields and other energy worksites in 2020, resulting in fewer litigation cases for worker injuries and deaths.
The onset of 2021 and the promise of vaccinations are heralding economic reopenings, despite the threat from a faster spreading U.K.-discovered variant of the coronavirus.
Thus, employer-negligence lawsuits that moved at a slower pace or were deferred during last year's scaled-back court calendars are coming back to impact energy firms.
Sammy Montgomery of New York-based RPO Partners, which does research and investigative analysis for legal firms, tells Investing.com:
"There are a number of big cases looming in 2021 over accidents and deaths due to the alleged negligence of energy service companies."

"Investors should be aware that settlements arising from these could blow a hole in the bottomline of some of these companies already reeling from last year's devastation caused by the pandemic."
Last Year's Case Delays Unlikely
Sean Williams, partner at Williams Attorneys PLLC, sees more settlements being concluded this year by the Corpus Christie, Texas-based firm which specializes in oil-and-gas accident litigation. He adds:
"I think there's going to be an unwillingness by judges and attorneys to moving cases and pushing them out longer. I think there will be more resolutions this year."
One of the first such lawsuits to be heard this year will be less than a week from now in a Fort Bend, Texas court.
In that upcoming Jan. 12 trial, TEAM Inc (NYSE:TISI), a Sugarland, Texas company that provides industrial solutions for the energy industry, is being sued for the 2018 deaths of two persons, Jesse Henson and Damien Burchett, who perished at a power plant accident in Kansas.
According to the facts of the case, Henson and Burchett were victims of burns from steam released from a faulty safety valve at an elevator maintained by TEAM at the Westar Energy plant in Kansas. Westar Energy itself is not a defendant in the case brought by the families of Henson and Burchett.
Settlements Of $100 Million Or More
A parsing of settlements for burn cases in other U.S. states shows awards typically running into millions of dollars, sometimes breaching $100 million.
In February 2018, Airbus Helicopters, SAS and privately‐owned medical transportation services provider Air Methods Corporation agreed to pay $100 million for post-crash burns suffered by nurse David Repsher in Colorado in July 2015.
In June 2018, U-Haul International signed off on a $160 million deal to end claims over its role in a Philadelphia food-truck explosion that killed two and injured several others.
In May 2015, another jury awarded almost $180 million in compensatory and punitive damages to three workers grievously injured in a 2010 grain bin explosion at a ConAgra Foods (NYSE:CAG) facility in Chester, Illinois.
As the most dangerous industry in America, oil and gas exploration and production company workers face more hazards than on any other job, legal experts say.
Data shows that fatal oilfield accident rates are six times higher than the fatality rates of all other U.S. job types combined.
In past lawsuits brought against the energy industry, poor supervision, faulty equipment and lack of safety training were among factors cited in on-site accident and death cases.
Even when oil and gas companies themselves implement proper safety training and procedures, people on such sites—which include rig workers, derrick hands, pipeline operators, roustabouts, platform staff, truck drivers and other crew members—can face danger from equipment provided by third-party manufacturers and contractors.
Fewer Accidents Due To Lower Rate Of Drilling Activity?
Still, safety records seem to be improving in the energy industry.
According to the International Association of Oil & Gas Producers' 2019 safety report, industry fatalities worldwide had dropped from 30 in 2017 to 27 in 2018.
Henry Berry, a commentator on oil industry risks, wrote in a September blog that it was encouraging that the drop in the death rates came on top of an increase in average hours worked.
Said Berry:
"So long as the industry's governing bodies continue to keep their foot on the gas, pushing for increasingly high standards, there is no reason that this figure should not continue to decrease as the years go on."

"It is not enough, however, for the industry to simply pursue a target of no work-related deaths, annually."
But some are of the opinion that as long as oil prices remained below levels that optimized exploration and drilling, on-site accidents would naturally be lower too. Conversely, the higher prices go, the greater the risk for worker mishaps in the industry.
On Tuesday, U.S. oil's benchmark U.S. West Texas Intermediate crude crossed $50 per barrel the first time in nearly a year.
Just over eight months ago, WTI was wallowing in negative pricing territory, falling to an astonishing minus $40 per barrel, as demand for oil cratered from the COVID-19. While its recovery since had been quite spectacular, this was a commodity that fetched nearly $77 per barrel in October 2018. Likewise, Brent, the London-traded global crude benchmark, hovering at under $55 versus nearly $87 in October 2018
Says Williams, the Texan legal firm partner:
"There has really not been a lot of drilling in the United States, like in the past years, so there have not been as many accidents. It's that simple."

Written By: Investing.com