When investors in the cannabis sector look back at 2020, the picture they see won't be pretty. Marijuana growers were already juggling a number of challenges — and then, the COVID-19 crisis struck. The global pandemic is pushing a number of cannabis companies to the tipping point. But not all.
The difference between the two is now coming into clearer focus. It all comes down to cash.
The amount of cash these companies have on their balance sheets could very well be the factor that determines whether cannabis companies are going to survive until the end of the crisis and then the year, or whichever comes first.
Aurora Cannabis
If you need proof of this theory, look no further than what happened with Aurora Cannabis (NYSE:ACB), (TSX:ACB) on Monday.
The Edmonton-based marijuana company saw its stock price drop more than 13% to US$0.760 on the New York Stock Exchange and C$1.060 on the S&P/TSX Composite after it issued a public update on its liquidity that included an announcement saying its board of directors has approved a reverse stock split aimed at preventing the company's stock from being delisted from the U.S. market. The move would consolidate all of its outstanding common shares on a one-to12 basis.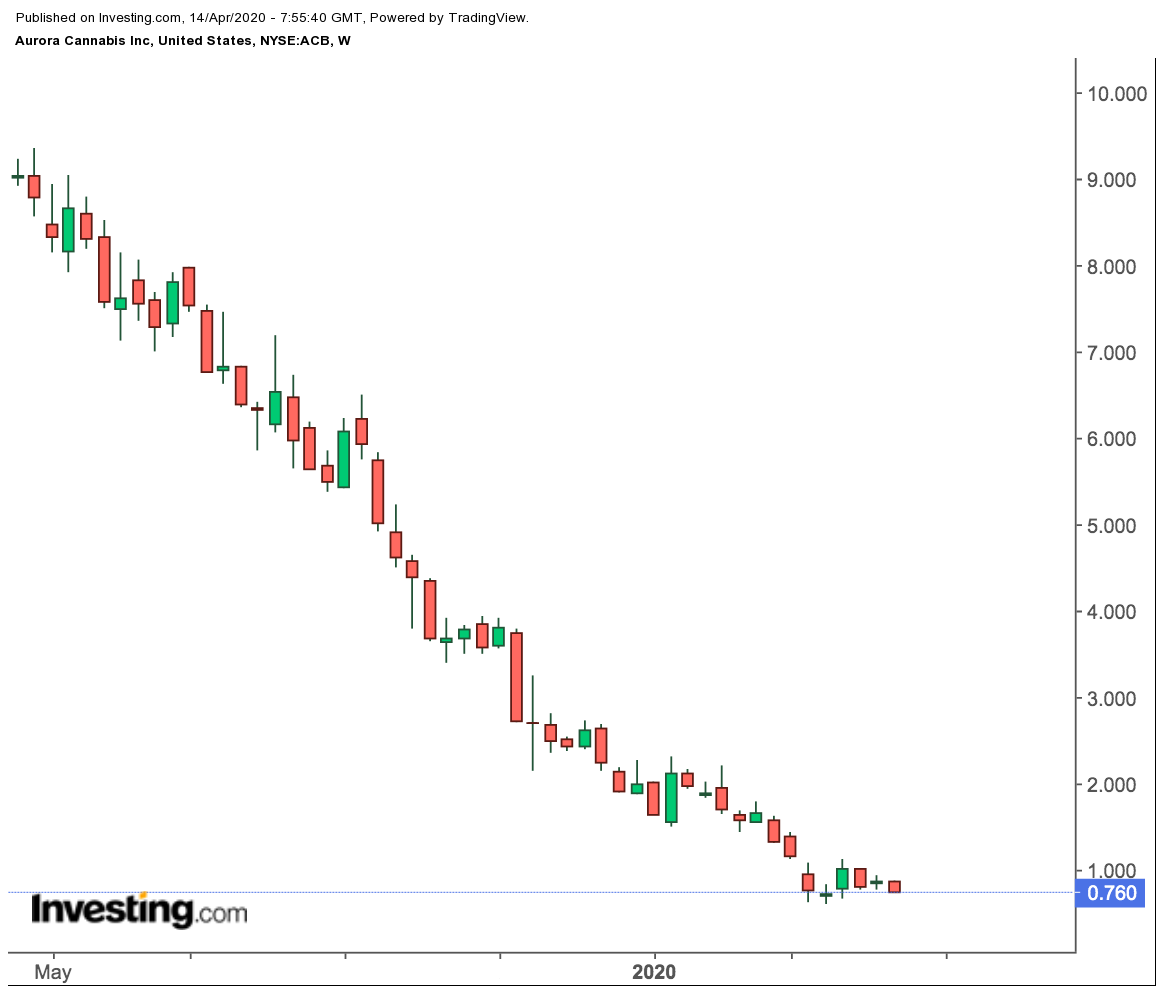 "The company expects the consolidation to restore compliance with the NYSE's continued listing standards, and to provide access to a broad universe of investors, access to equity capital and trading liquidity," the statement said.
The statement went on to say Aurora will issue a new prospectus to raise an additional US$350 million (C$41.7 million) in a fresh "at-the-market" offering, a move that would "provide further balance sheet strength and preserve flexibility given macroeconomic uncertainty caused by COVID-19."
While looking to raise more cash, the company also continues to shore up its operating costs. Aurora said it is on schedule to meet the cost cutting targets that it set earlier this year, when it announced the layoff of 500 employees and recorded a $1-billion (C$1.4 billion) writedown.
The moves point to an admission it needs more cash. The market's response on Monday summed up investor feelings about Aurora's attempt to maneuver its way to a stronger position. The market was not impressed.
Another fact listed in Aurora's update: the company reiterated it currently has a total of C$205 million (US$147.6 million) on its balance sheet.
Others Working Diligently
By comparison, other cannabis companies have been working diligently in maintaining a healthy cash balance.
Canopy Growth (NYSE:CGC), (TSX:WEED) has one of the healthiest cash balances in the sector. The largest marijuana grower by market cap, the Ontario-based company had C$1,561.6 million (US$1,124.6 million), according to its last quarterly filing. Its stock price has gained more than 48% since mid-March, when the effect of the global pandemic started sending stock markets reeling.
On March 18, the stock closed in New York at US$9.73. Yesterday, it ended the session at $14.46.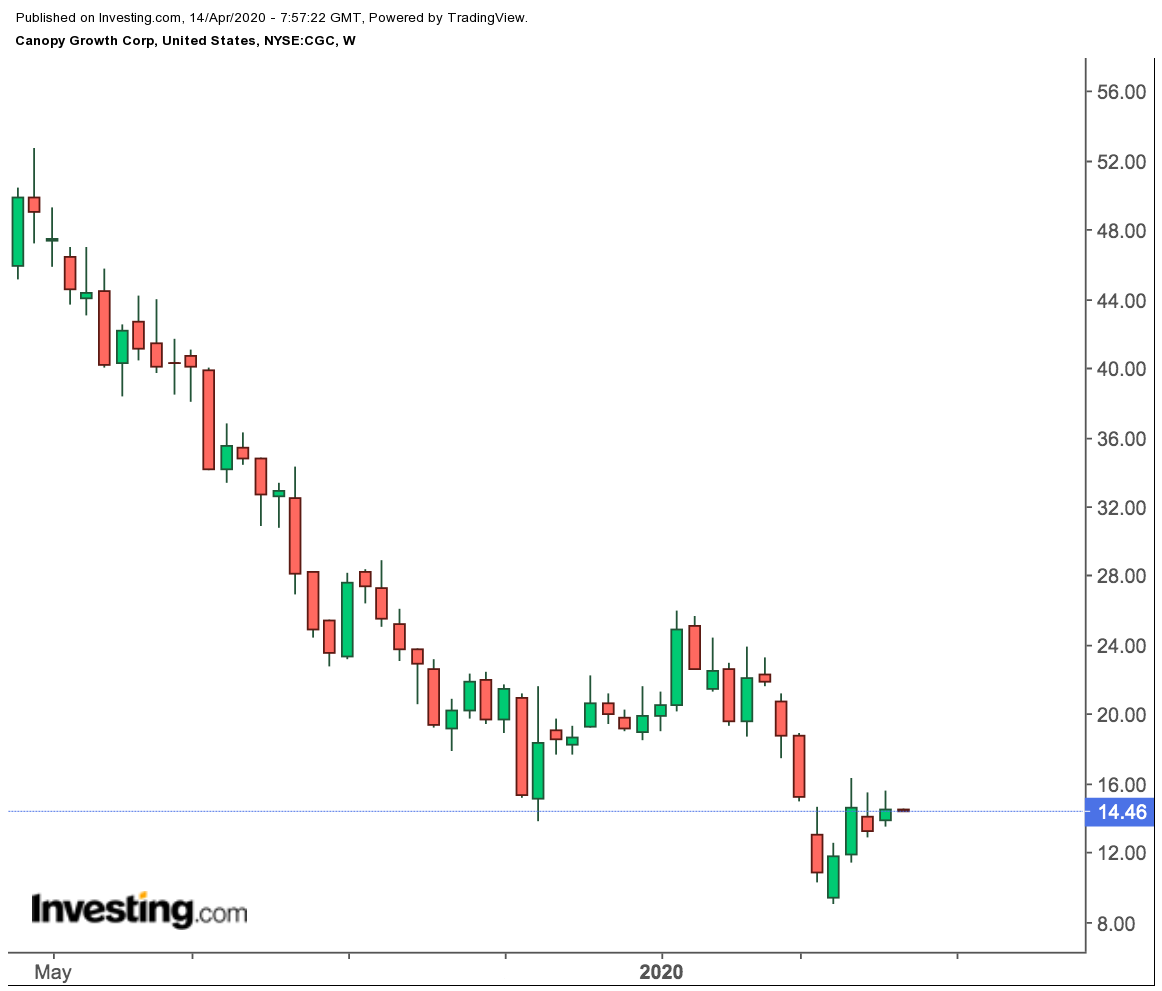 Cronos Group (NASDAQ:CRON), (TSX:CRON), another Canadian company, has a cash balance of US$1,475.5 million (C$2,048.8 million). Shares rose on the U.S. exchange from US$4.52 on March 12 to a close yesterday at US$5.79, a gain of 28%.
At Aphria (NYSE:APHA), (TSX:APHA), cash on the balance sheet totaled C$497.7 million (US$358.4 million). The stock ended yesterday at US$3.47, up more than 8% on the day and almost 63% since March 18, when it closed at US$2.13.

Written By: Investing.com