The economic uncertainty caused by the coronavirus has clouded the outlook for many sectors of the economy. This includes retailers, who will find themselves in the direct line of fire if this global disease forces consumers to stay at homes and rein in their spending.
But not all retailers are facing the same risks: while the U.S. toy industry is expected to be hardest hit, with more than 85% of their products being made in China, some large, food-focused retailers are likely to escape the worst of the fallout.
And the Federal Reserve yesterday stepped in to help try and limit the extent of the damage, implementing an emergency rate cut aimed at preventing a global recession as the virus continues to depress economic activity in China and across the world.
According to analysts, the U.S. retail sector will be hit by both demand and supply-chain issues as the virus travels to more states. Cowen analysts wrote in a note this week:
"Declining consumer confidence, potentially severe retail-traffic declines, and temporary store closures are evolving risk factors that depend on uncertain variables like the geographic spread of the virus and the timing of containment/eradication solutions."
One Bright Spot
While the situation remains very fluid as economists struggle to understand the damage that this spreading disease could cause in the days and weeks to come, this aggressive monetary response from the U.S. Federal Reserve is providing one bright spot for retailers.
The central bank cut its key benchmark rates by 50 basis points yesterday to help businesses and consumers as the U.S. economy takes a hit. The relaxed monetary conditions of the past decade fueled an unprecedented boom in retail spending, helping retailers to grow their profitability.
If not immediately, rate cuts will be net positive for retail stocks, especially for grocers and larger chains such as Walmart (NYSE:WMT), Target (NYSE:TGT) and Home Depot (NYSE:HD), which are better positioned than smaller players to withstand the economic shock.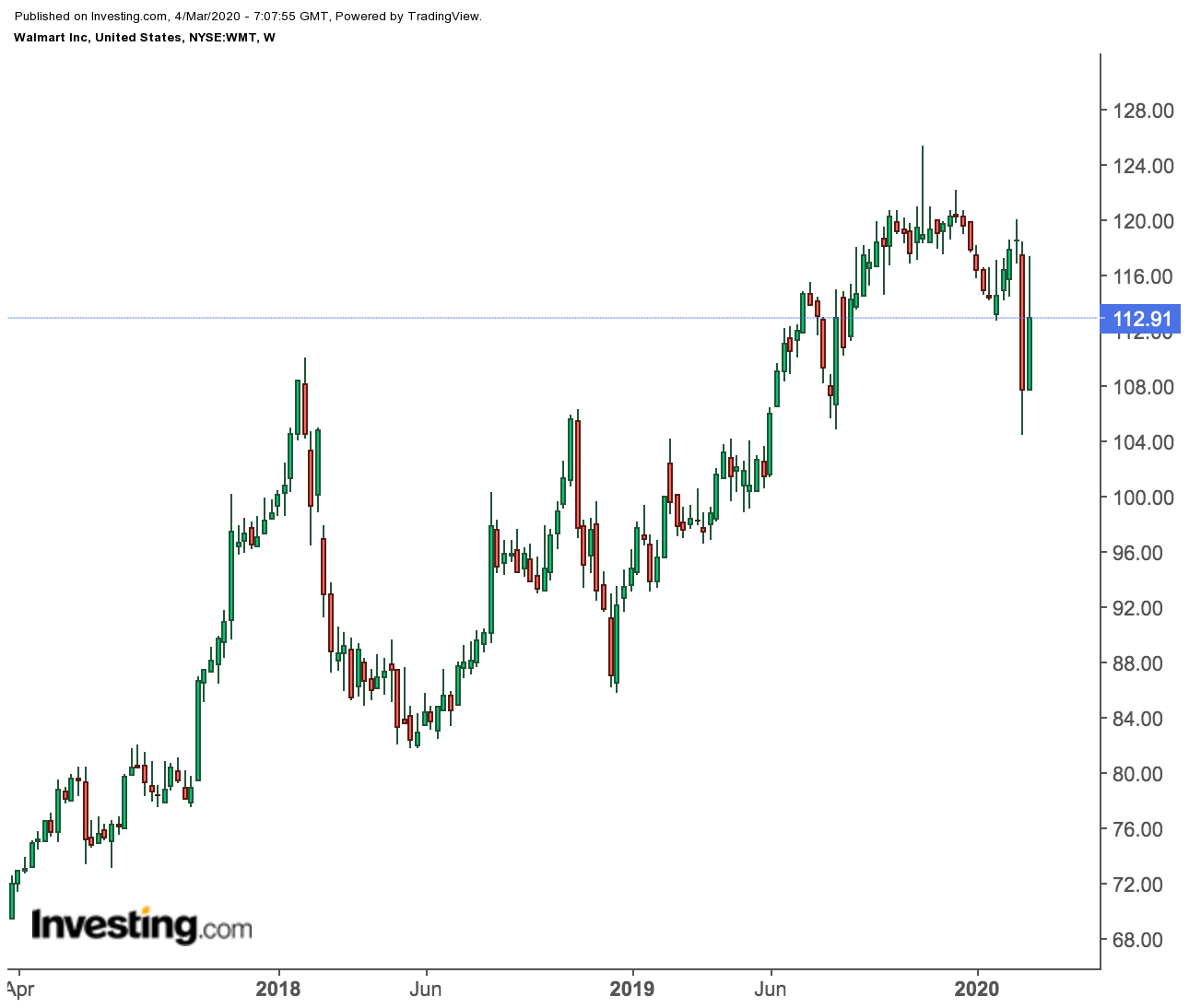 Looking at the prices of their shares since the outbreak of the coronavirus, it's quite obvious that these companies are outperforming the broader market and some investors are taking refuge in them.
Walmart and Costco Wholesale (NASDAQ:COST) shares, for example, are performing better in this the sell-off than other retailers. They are up 1% and 2% respectively during the past month when the S&P 500 has lost about 5%.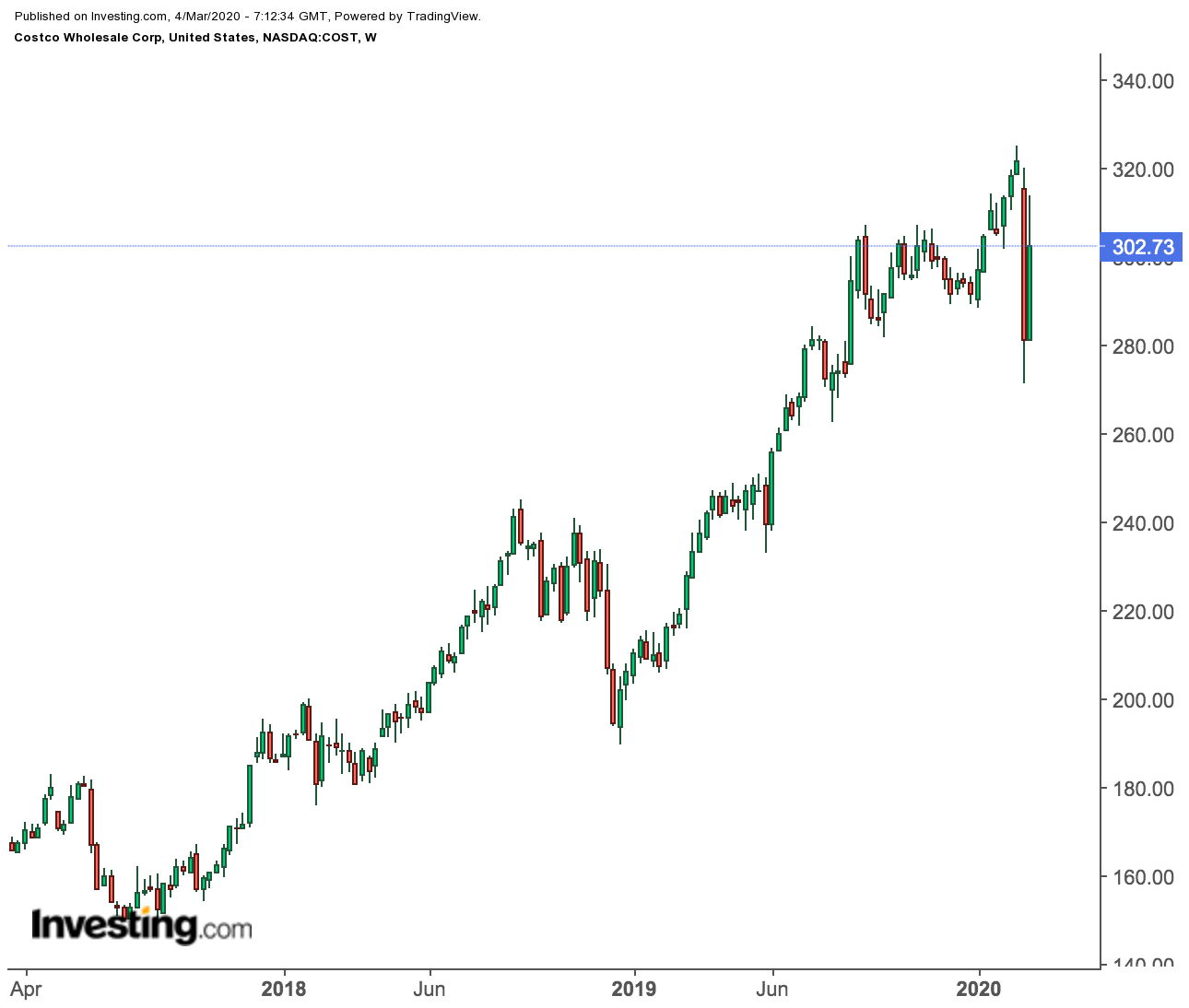 The retailers which might not do well in this health crisis are those which rely on apparel and don't sell groceries. A widespread coronavirus outbreak could also dent demand at department-store chains such as Kohls (NYSE:KSS) or Nordstrom (NYSE:JWN).
The large U.S. retailers, including Walmart, are considered defensive as these companies recover quickly after an initial shock due to the nature of their business. Walmart's large store network, massive power to squeeze its suppliers and fast-improving online sales give it safe haven status. One factor that favors this retailer over others is its strong food-related sales. This makes it better insulated from the coronavirus-related disruptions than many competitors because food mostly comes from North America.
With that strong market position, what's more important for investors is the company's ability to provide regular cash. Walmart has a great track-record on this front as well. Since declaring its first dividend in March 1974, Walmart has raised its payout every single year and now offers an annual dividend of $2.16 for a yield of 1.86%.
Bottom Line
It's hard to imagine retail stocks not feeling the impact from the fast spread of coronavirus in the U.S. Consumers will certainly reduce visits to stores and in the case of an economic slowdown, their spending, too. But large grocers, including Walmart and Costco, offer solid income potential and a good hedge should the economy slow or slip into recession.

Written By: Investing.com