The euro is sliding in a continued downtrend as it faces multiple pressures. The eurozone economy is increasingly sluggish, while its economic engine, Germany, is getting closer and closer to recession.
Europe's economic growth has been lagging, relying on industries that are fast becoming obsolete. The continent is trailing in services, information and telecommunication — the industries of the future. Germany's government appears unable to take any significant initiatives to kickstart the country's economy as it becomes ever more mired in coalition entanglements.
Ironically, even as the U.S. president is facing possible impeachment, the U.S. government has just surprised the world with its strong jobs market data, boosting the dollar.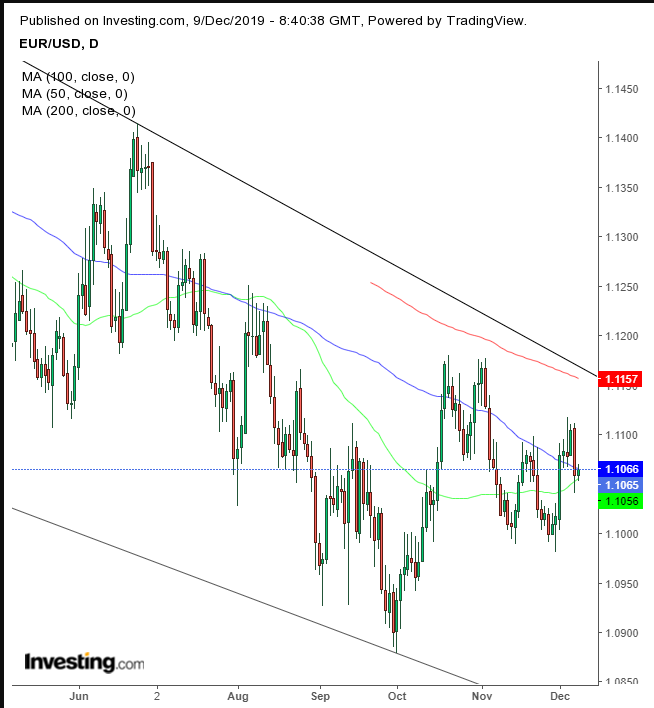 The single currency has been falling within a descending channel since June 2018, with the 200 DMA realigning with the channel top, further sealing its resistance.
Today, the euro is squeezed between the 50 and 100 DMAs as the market awaits Fed and ECB policy decisions this week, with trade looming large in the background, both between the U.S. and China and between the U.S. and Europe.
Risk remains on the downside, making it more likely that the common currency will revisit its October troughs, when it fell to the lowest since the first half of 2017, below 1.0900.
And if that seems low, just look at the next chart.
Note the 200 monthly MA, forming a neckline for a massive H&S top, ranging from 2003 to 2015, which proved a solid resistance when the euro retested it January 2018. If the dynamics that tend to play out after such a pattern take place now as well, we can expect the once-promising currency to compete with the dollar to take on the 1.000 levels, heading toward the 2000 lows.
Trade Strategies
Conservative traders might choose to wait for a full return move, if one takes place, to the top of the channel and the 200 DMA, before committing to a position.
Moderate traders may short upon a pullback to the recent highs at the 1.1100 levels
Aggressive traders may short at will, after having written a detailed trading plan that fits their budget.
Trade Sample
Entry: 1.1100
Stop-Loss: 1.1125
Risk: 25 pips
Target: 1.000
Reward: 100 pips
Risk:Reward Ratio 1:4

Written By: Investing.com