This weekend's historic deal among the major oil-producing nations to introduce the largest-ever cut in their combined output, has raised hopes that oil prices could potentially recover this year saving the U.S.'s largest oil and gas companies, which have all been suffering as prices for those commodities collapsed, from taking increasingly painful actions to protect revenues, such as slashing their dividends.
The agreement was brokered by the U.S. after the sharp drop in global fuel consumption caused by the coronavirus pandemic, which was exacerbated by a feud between the world's largest producers — Saudi Arabia and Russia — that has threatened the financial viability of North American producers.
West Texas Intermediate, the main U.S. price benchmark, ended Thursday at $22.76 a barrel, down 63% since the start of the year. It's been even worse in Midland, Texas, where a lot of oil extracted from the Permian Basin is priced, and in western Canada, from which most of the country's output comes. Oil has traded below $10 a barrel in both markets. After dropping 3.5% yesterday to $22.41, at the time of writing, WTI is up just under 1%, trading at $22.59.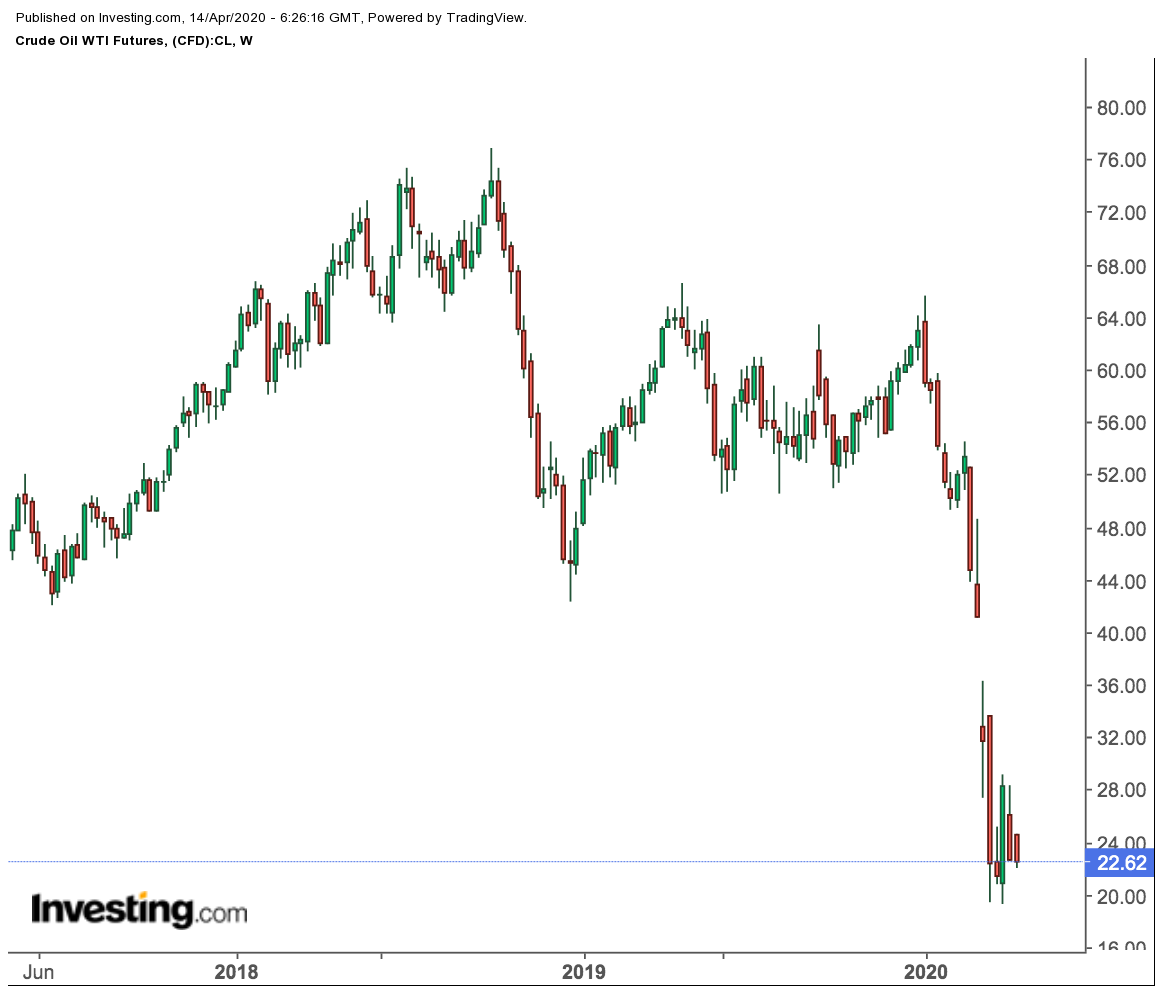 For investors in the region's largest producers, the next big question is whether this deal will help safeguard the payouts they receive from such mega-producers as Exxon Mobil (NYSE:XOM), Chevron (NYSE:NYSE:CVX) and Royal Dutch Shell (NYSE:RDSa).
The world's biggest oil and gas firms have avoided slashing their dividends for years, to incentivize investors as the appeal of oil stocks continues to diminish along with the shift to cleaner sources of energy. The top five so-called oil majors have added a combined $25 billion to debt levels in 2019 to maintain capital spending, while giving back billions to shareholders.
According to a CNBC.com report, the combined debt of Chevron, Total (NYSE:TOT), BP (NYSE:BP), Exxon Mobil, and Royal Dutch Shell stood at $231 billion in 2019, just shy of the $235 billion hit in 2016 when oil prices also tumbled below $30 a barrel.
The dividend yields from oil companies, a reflection of the risk investors are willing to take in order to own their shares, have also soared after the recent collapse in their stock prices. Exxon Mobil, which has plummeted 39% this year, and Chevron, down 29%, are now yielding 8% and 6% respectively. Exxon closed yesterday's session down 0.4% at $42.76, while Chevron ended Monday up 0.7% at $84.91.
A Glimmer of Hope
While the yield on oil stocks is already showing an extreme level of financial distress, the OPEC+ output deal offers a glimmer of hope as it could provide a floor to plunging prices and provide these producers some breathing space.
Some analysts believe that though production cuts will do little in the short-run to turn the tide of massive oversupply, prices should recover by the end of this year to the mid-$40s.
"It's simply too late to prevent a super-large inventory build of over one billion barrels between mid-March and late May and to stop spot prices from falling into single digits," Ed Morse, Citi's global head of commodities, wrote in a note to clients on Sunday.
Still, big oil companies have endured numerous downturns and even survived the financial crisis of 2008.
"In past oil downturns, Big Oil on aggregate did not respond to challenging macro conditions through material dividend cuts," analysts at Goldman Sachs said in a recent note, adding that they do not expect a cut because of the current environment.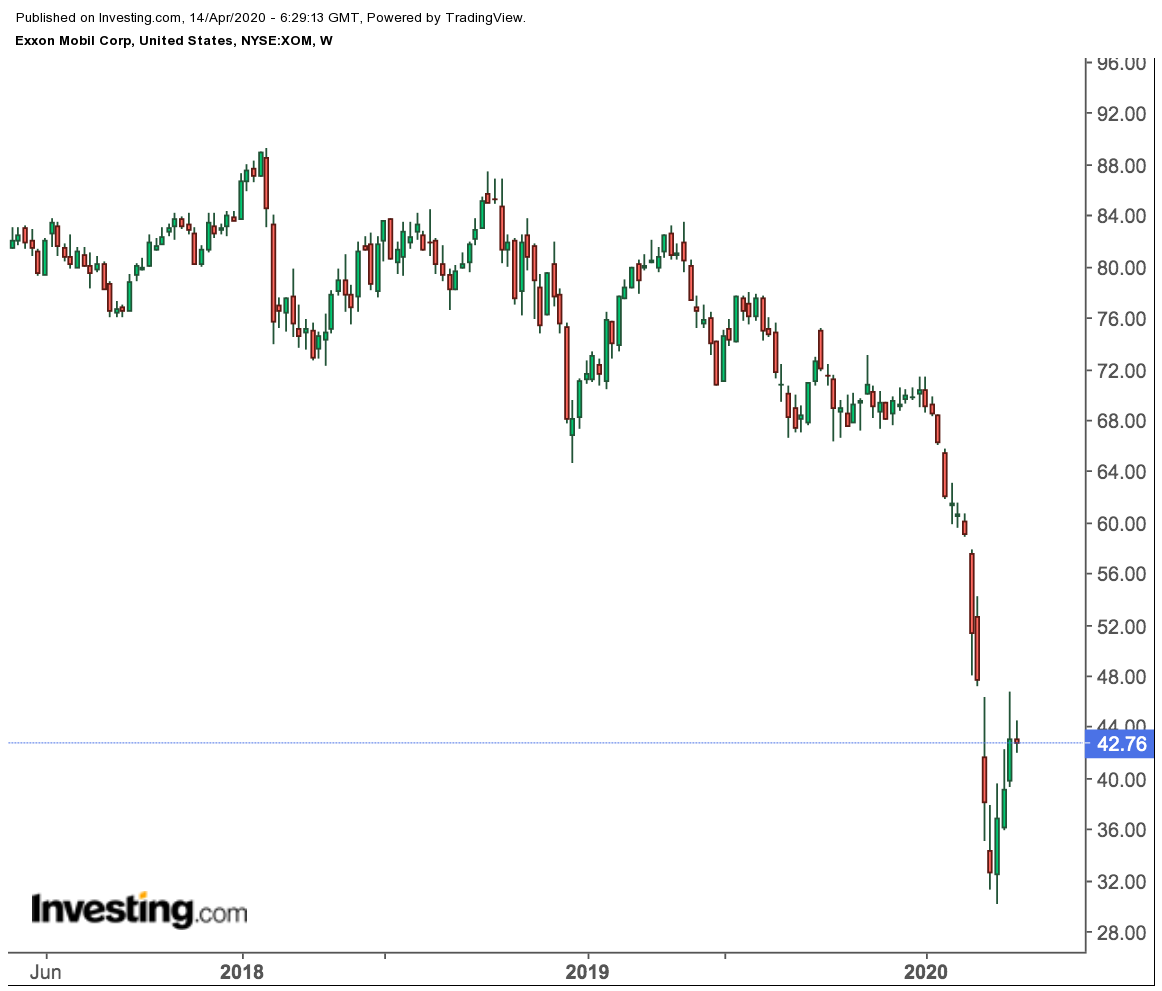 Exxon Mobil CEO Darren Woods said at the company's investor day on March 5 that Exxon is "committed to a reliable and growing dividend." The company has increased its payout each year for the past 37 years.
Chevron's CEO Mike Wirth also reiterated recently that the integrated energy producer is on track to raise its annual, per-share payout for the 33rd time in 2020. Both Exxon and Chevron stocks have gained more than 10% in the past month.
Bottom Line
No one can say for sure how the oil markets will behave in the coming weeks and months when there is so wide a gap between supply and demand. But the output cuts and the end of Saudi-Russian price war offer some hope that the biggest U.S. oil companies now have more room to deal with the demand shock presented by the coronavirus pandemic.

Written By: Investing.com