* Reports Q4 2019 results on Wednesday, Oct. 30, after the close
* Revenue expectation: $62.94B
* EPS expectation: $2.83
Apple Inc (NASDAQ:AAPL) is among a very limited number of technology companies that have proven forecasters wrong this year. Backed by improving sales prospects, its stock has so far surged about 50%, massively outperforming other big names, such as Google (NASDAQ:GOOGL) and Amazon (NASDAQ:AMZN).
But that strong rally, which began in August, will face its first big test today when the maker of popular iPhones releases its fiscal 2019, fourth-quarter earnings.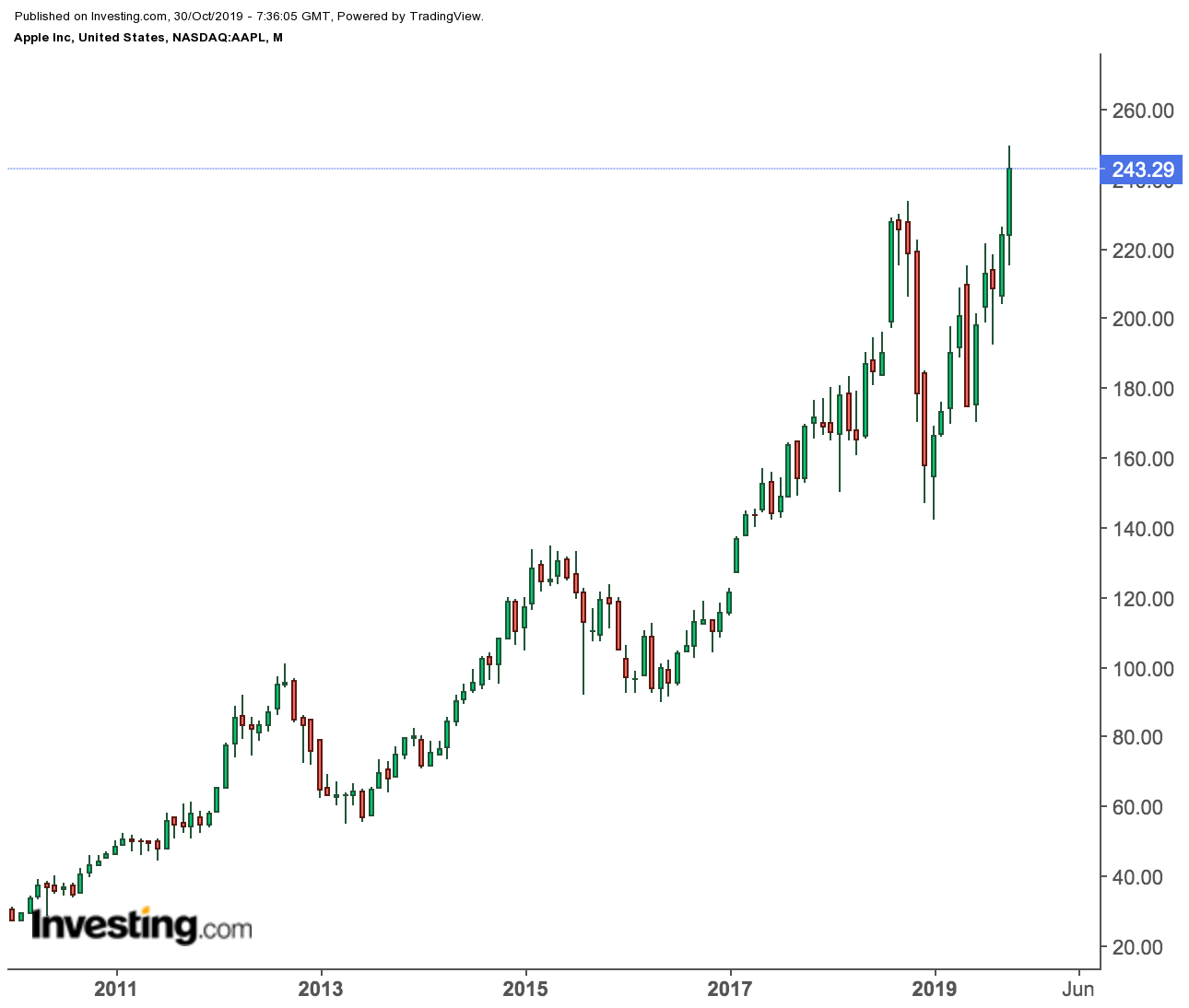 The consensus revenue forecast shows that the majority of analysts have quickly adjusted their view about Apple, which had appeared for some time to be facing a grim outlook — hurt by its maturing iPhone business as users held on to their older versions and expensive models failed to gain much traction. iPhones make up about 50% of the company's total sales.
Game-Changer iPhone 11
But a pessimistic case against Apple — in which the company loses its market share too quickly — isn't looking credible after the company's successful launch of the iPhone 11 last month. Wall Street's consensus estimates for iPhone shipments in Apple's current fiscal year have increased by 3 million units as analysts factor in the strong reception the new models have received since they went on sale on Sept. 20, according to FactSet.
Besides the iPhone, there are other positive developments that also helped remove some of the uncertainty that gripped Apple stock early this year. The U.S. and China, for example, have shown considerable progress toward resolving their trade dispute, and the two countries are likely to sign the first-phase of their pact next month. Apple has a huge stake in China where it maintains a vast network of suppliers. The company also sells a great number of cellphones to consumers in China, the most populous nation in the world.
The other catalyst fueling optimism is CEO Tim Cook's success in generating a sizeable chunk of revenue from products other than iPhones. Sales from Apple's Wearables, Home, and Accessories segment grew 48% to more than $5.5 billion in the second-quarter, showing that these products are quickly picking up the slack left by iPhones' slowing demand.
One new driver which will boost the demand for new hardware is the roll-out of Apple's fifth-generation, or 5G, phones in 2020. Wall Street's estimates for the impact of 5G iPhones on Apple are too conservative, according to Jefferies analyst Kyle McNealy.
Energized by this upbeat context, Apple shares hit a record high of $249.05 on Monday. Trading at $243.29 at Tuesday's close, the stock has rebounded more 70% from its January low, pushing the company's valuation back to over a trillion dollars.
Bottom Line
Apple's current surge is consistent with our bullish view on this stock and is backed by real improvements in fundamentals. In addition, Apple's massive share buyback plan and its growing dividends, which now yield 1.25%, make this stock even more attractive for long-term investors. Today's earnings report could very much solidify this rally.

Written By: Investing.com