With the world still caught in the throes of the deadly coronavirus pandemic, it's hard to predict which direction the global economy will take after it's over. But even amid this uncertainty, it's already becoming clear which companies are likely to emerge unscathed or even stronger from this international health emergency.
In the technology space, the biggest winners are going to be companies which provide products and services that further accelerate the transition to a digital economy.
Additional strict hygiene rules, for example, will accelerate a shift to online shopping. In the work environment, teleworking is going to become much more prevalent and work-from-home will continue even after this health crisis is over.
Below is a short list of three technology stocks we believe will increase in value and that long-term investors would be wise to keep at the top of their shopping lists.
1. Zoom Video Communications
Zoom Video Communications (NASDAQ:ZM) is becoming more appealing in the current crisis because demand for its video conferencing services is likely to jump in this work-from-home environment.
The company is trying to make video communication frictionless, by enabling conferencing services so staff can connect with coworkers. International Data Corp. has estimated that the segments of the market in which Zoom operates could be worth as much as $43.1 billion by 2022.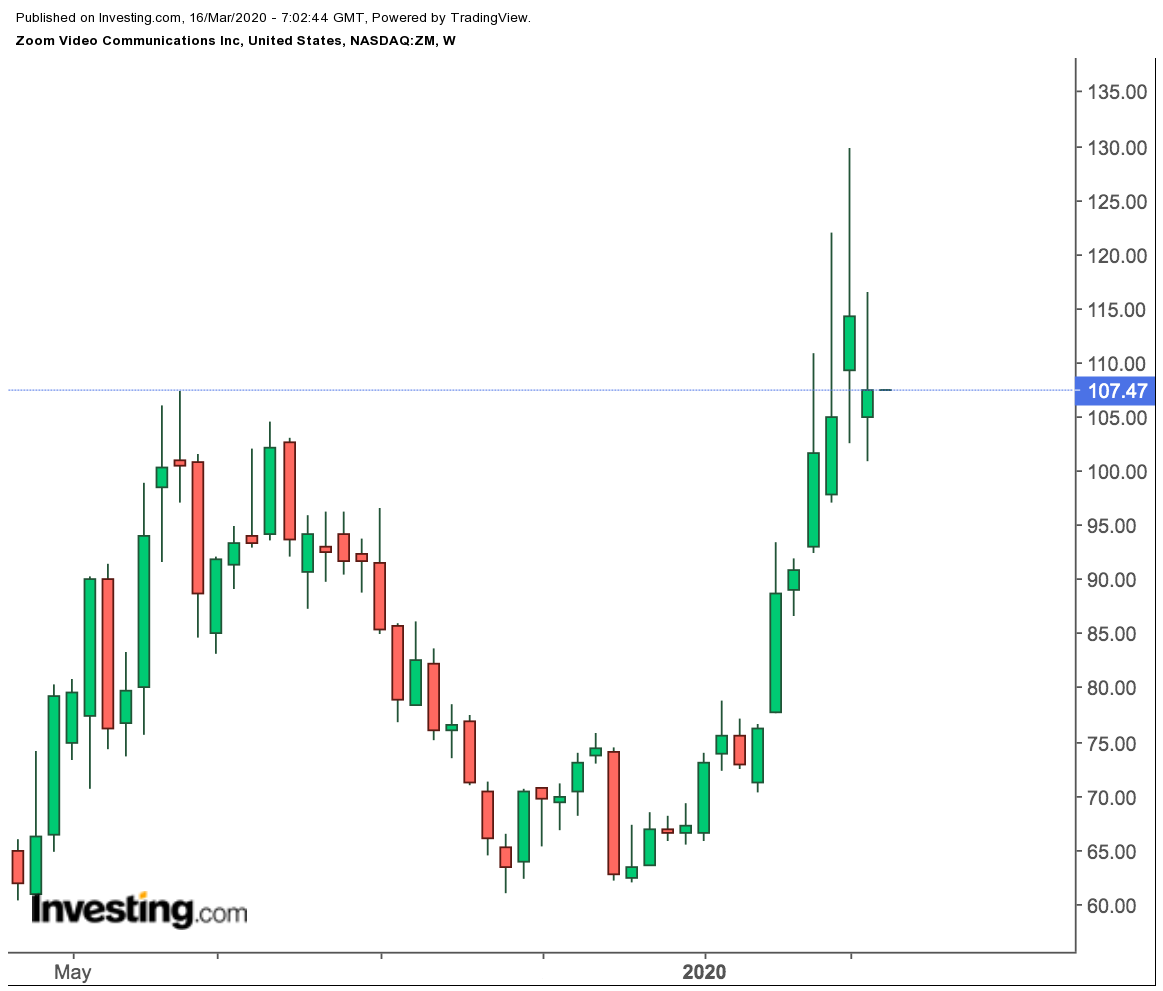 That is the reason that Zoom shares have massively outperformed other technology names in this meltdown. Trading at $107.47 at Friday's close, Zoom rose 18% during the past month when the tech-heavy NASDAQ fell 19%. Its stock has surged three-fold from the IPO price of $36 a share in April.
The San Jose, California-based company said this month sales could hit $201 million in the quarter ending in April, representing year-over-year growth of 65%, compared with 78% in the January quarter and 85% in the previous one.
2. Shopify
Canadian e-commerce platform provider Shopify (NYSE:SHOP) has persistently proven its critics wrong. The Ottawa-based company, which makes tools that enable mainly small businesses to create websites and engage in commerce across multiple channels, has emerged stronger after every correction during the past five years, defying many calls of impending growth stagnation.
Closing on Friday at $390.90, its shares have lost a third of their value since hitting a record high of $593.89 on Feb. 9. Despite this hard landing amid the coronavirus-induced sell-off, there is little that could go wrong in the long-run when it comes to e-commerce.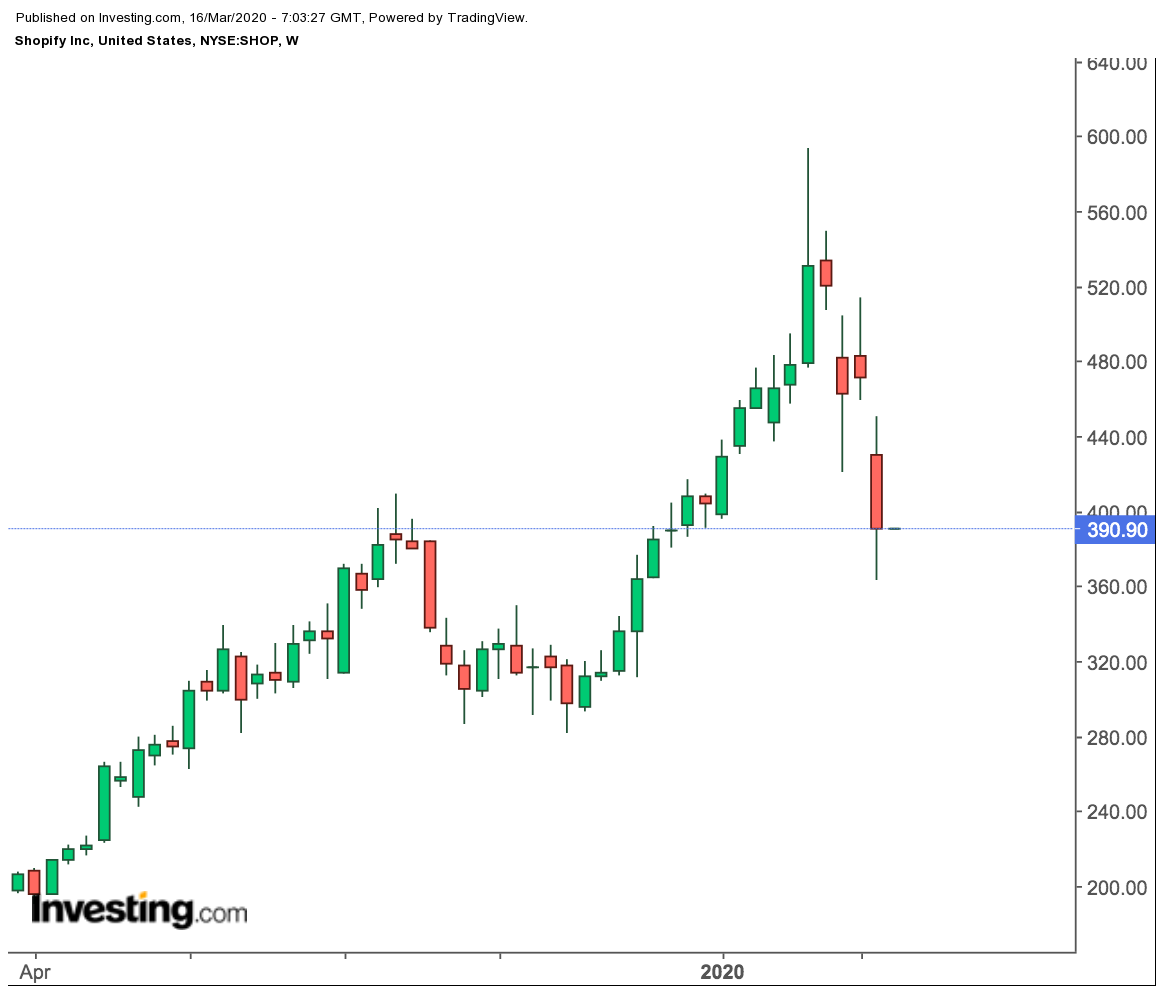 For the quarter that ended in December, Shopify reported a 47% surge in sales to $505.2 million, while its key metric of gross merchandise volume, which represents the value of all goods sold on the platform, also increased 47% from a year earlier.
One of Shopify's main strengths is that it offers small- and mediuim-sized businesses a very effective and cost-efficient way of building a secure online store. The platform handles all the hardware security, data backup and payment processing aspects of the business, freeing merchants to focus purely on their core businesses.
The latest catalyst powering Shopify's rally was the announcement last year that it plans to spend $1 billion on a chain of fulfilment centers that would put it in direct competition with Amazon.com (NASDAQ:AMZN).
3. Microsoft 
Despite the economic uncertainty created by the coronavirus outbreak, we don't see the investing appeal of Microsoft (NASDAQ:MSFT) shrinking anytime soon.
The biggest reason to have a long-term bullish view on Microsoft's stock is that businesses and governments will continue to spend on their transition to cloud computing — the company's key growth area in recent years.
Microsoft shares have shed about 16% of their value since their February high of $190.70. The stock closed at $158.83 on Friday after jumping 14.2% in a broader market rebound. It was one of the best performing tech sector stocks last year, delivering a return of 60% to investors.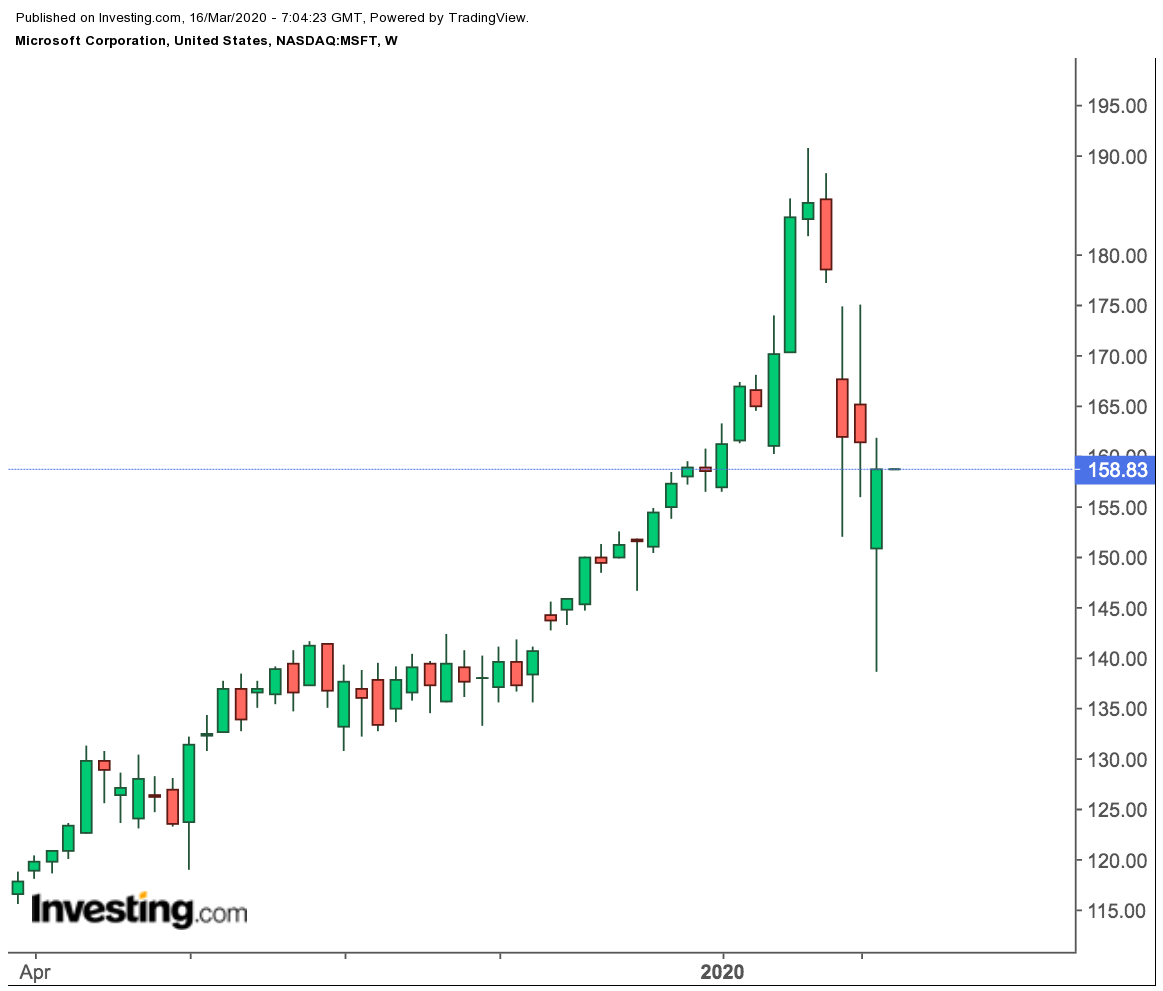 Wedbush Securities analyst Dan Ives calls the stock one of the best opportunities in the recent market crash. "MSFT at these levels we view as a golden cloud tech name to own for those willing to navigate the volatility of this 'shock event' and see the forest through the trees on this cloud behemoth," Ives wrote in a note last week.
"While volatility and white knuckles will rule the day for the coming days/weeks, etc, we believe MSFT remains the best way to play the transformational cloud shift for the coming years."
Bottom Line
The economic damage done by the coronavirus pandemic is likely to continue to put pressure on stock values in the days and weeks to come. But smart investors should be able to separate the wheat from chaff and buy stocks which have been unfairly punished in this rush to safety. The above three names fit the bill.

Written By: Investing.com