With the world still caught in the throes of the deadly coronavirus pandemic, it's hard to predict how dire the global economy will become before it's all over, as well as which direction it will take after it's passed. But even amid this uncertainty, we can get some clarity regarding which companies are likely to emerge unscathed or even stronger from this international health emergency.
In the technology space, the biggest winners are companies that provide products and services that further accelerate the transition to a digital economy.
Additional strict hygiene rules, for example, will hasten a shift to online shopping. In the work environment, teleworking is going to become much more prevalent and work-from-home will continue even after this health crisis is over.
Below are two top technology stocks that have defied the extreme selling pressure and are reaching new highs as demand for their products and services continues to escalate significantly during this crisis.
1. Amazon
The current crisis has separated Amazon (NASDAQ:AMZN) from the rest of the pack of high-risk tech stocks after it became clear the world has no choice but to embrace e-commerce.
Even with the economy slipping into a deep recession and unemployment rates surging, consumers are flocking to Amazon to buy essential health and household products while getting groceries delivered through services like Amazon Fresh.
This week, Amazon announced it plans to hire an additional 75,000 workers to meet the growing demand for its products, after filling the 100,000 temporary and full-time positions it had announced last month.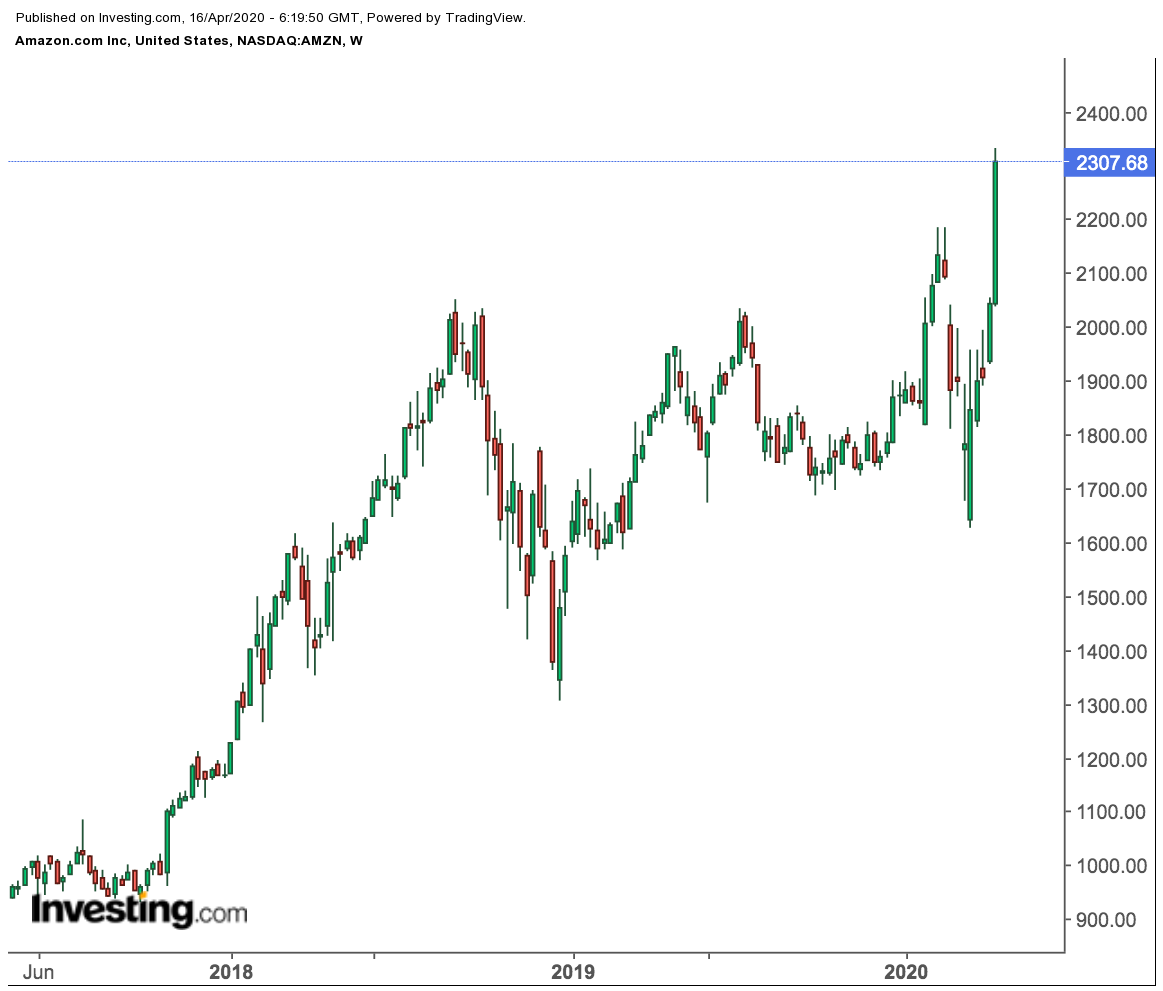 In addition to rising e-commerce demand, the company's Amazon Web Services cloud-computing business is also expected to see higher demand at a time when the pandemic is forcing more people to work from home, increasing pressure on companies' IT infrastructure.
This new economic reality means that investors in Amazon stock have been benefiting greatly in the current market rout. While the S&P 500 is in negative territory for the year, Amazon has surged nearly 25% over the same period, making it one of the 10 biggest percentage gainers among S&P components.
The gains have also lifted Amazon back above the threshold of a $1 trillion market capitalization. Shares soared intraday Wednesday to as high as $2,333.17, a record for the e-commerce giant. They closed still up more than 1% at $2307.68.
2. Netflix
The streaming giant Netflix (NASDAQ:NFLX) is another tech giant that's emerging as a clear winner in this crisis.
The popular theory explaining Netflix's outperformance in this highly bearish and uncertain environment is that it's a perfect "stay-at-home" stock, meaning Netflix would be a beneficiary of COVID-19, as its subscribers will spend more time at sheltering-in-place, watching the streaming platform's content.
Before yesterday's close, Netflix's shares had gained about 34% so far this year, while the S&P 500 plunged 12%. Wednesday's rally saw the stock gain more than 4% to reach $432.50 before closing up more than 3% at $426.75.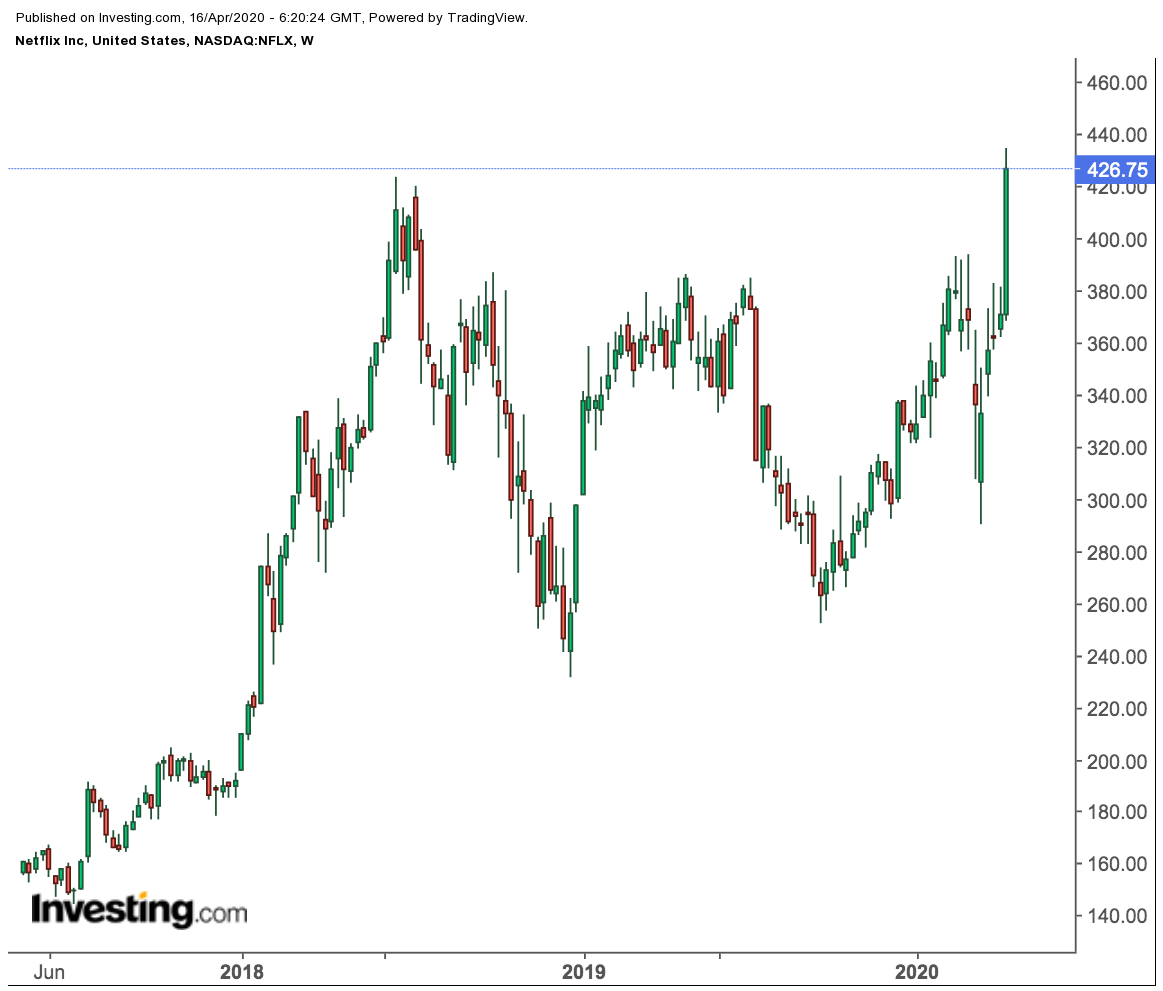 This unexpected resilience comes after Netflix's dismal performance in 2019, when its shares lagged far behind the surge that pushed so many other mega cap tech stocks to new highs.
Research firm Pivotal, while raising its price target on Netflix to a Street high yesterday, said the company is cementing its position as the dominant streaming service during the coronavirus pandemic.
"We raised our Netflix global subscriber forecasts materially on likely higher gross subscribers and lower subscriber churn boosted by global consumer 'stay at home' orders around COVID-19. The firm raised its year-end price target price to $490 a share.

"We believe the unfortunate COVID-19 situation is cementing NFLX's global direct-to-consumer dominance partly driven by the incremental content spend that is enabled by their massive and growing subscriber base."
Bottom Line
The economic damage done by the coronavirus pandemic is likely cause a lot of companies to struggle for months and years to come. But the pandemic has also created new opportunities in the economy for services that are more virtual and connected. The above two names fit the bill.

Written By: Investing.com